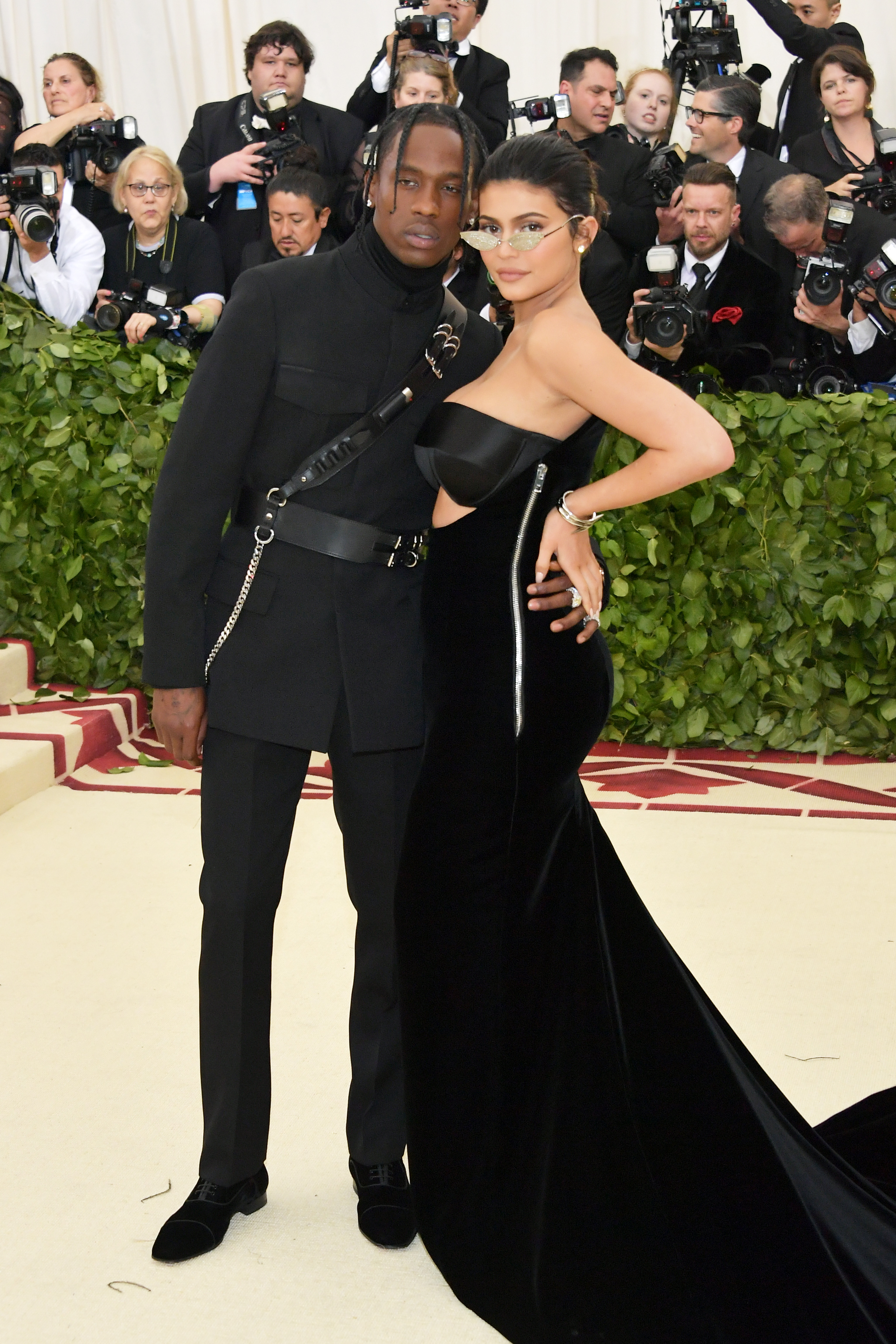 Kylie Jenner and Travis Scott may be Hollywood's youngest power couple, but the Kylie Cosmetics mogul has kept her famous lips sealed about their romance – until now.
The two stars cover GQ magazine's August 2018 issue, where they reveal how their relationship went from "0 to Stormi" within a matter of months. While the couple is deeply in love (and happily raising their 5-month-old daughter together), sparks weren't flying from the start.
"You thought I didn't like you," Travis told the mag of their first impressions of each other.
"But now I know
it's your standoff-ish personality," Kylie says
Kylie Jenner Rents Out Six Flags For Travis Scott's Birthday
Neither Travis nor Kylie can pinpoint the first time they met. Instead, the stars continuously caught themselves hanging out in the same squad during trips to theme parks and concerts. It wasn't until Coachella 2017 – which was more of a "hang that went well" than a date – that Kylie and Travis realized they had serious feelings for each other.
"Coachella was one of the stops on his tour. So he said, 'I'm going back on tour—what do we want to do about this? Because we obviously liked each other," the "Life of Kylie" star tells GQ. "And I was like, 'I guess I'm coming with you. I just jumped on the bus. And then we rode off into the sunset. I did the whole tour with him."
Kylie Jenner & Travis Scott Take Baby Stormi On Family Vacation
The couple has been inseparable since the first date, keeping their relationship on the low while it continued to intensify. While the youngest Kardashian-Jenner sister is no stranger to life in the spotlight – she grew up on reality TV after all – Kylie confesses that she went the extra mile to keep her relationship out of the public eye.
"I know he doesn't like the attention. That's why we keep our relationship super private, or like, if he has events or something, I won't come. Because I want him to do his thing," Kylie reveals.
Kylie Jenner & Travis Scott Get Cozy In Miami — Without Baby Stormi!
And when it comes to the infamous "Kardashian Kurse" – where the ladies' men succumb to the pitfalls of dating a member of America's most famous family – the lip kit queen does her part to make sure her loved ones rise above the tabloid fodder.
"They come and can't handle it," she says of her sisters' famous exes. "I know these stories aren't going to matter, so don't even let them affect you, you know? … It's not just men—it's friends, it's people who come and just don't know how to handle it. It's the negative. There's a lot of people who love us, but there's also a huge handful of people who don't like us."
Copyright © 2019 by NBC Universal, Inc. All Rights Reserved.
This material may not be republished, broadcast, rewritten or redistributed.