There's chaos at Christmas in Central City on Tuesday night, when a metahuman who can manipulate the weather teams up with a brilliant criminal psychopath in a Santa suit on "The Flash."
Liam McIntyre is back as Mark Mardon/the Weather Wizard, and he'll be making his way to Iron Heights to break Mark Hamill's James Jesse/The Trickster, and Wentworth Miller's Leonard Snart/Captain Cold out of the pen so they can combine forces for one killer crime – taking down The Flash (Grant Gustin).
Since we first heard the Weather Wizard and the Trickster were going to be in the same episode, we've been looking forward to watching the two villains team up on The CW superhero show (and the sneak peek proves the stakes will be dangerously high for Barry Allen).
WATCH: Liam McIntyre & Mark Hamill Cause Trouble For 'The Flash' (Midseason Finale Sneak Peek)
It was back in October that Liam traveled to Vancouver to film "The Flash's" midseason finale, where he met his fellow guest star, Mark Hamill, for the first time (while, unintentionally, wearing a piece of clothing with a "Star Wars" image on it). On a break from shooting a new project in Eastern Europe, Liam hopped on the phone with Access Hollywood to talk all things Mark Mardon, working with the "truly delightful" Mark Hamill, the wildcard factor of Captain Cold, Patty Spivot, and trying to ruin Christmas in Central City.
AccessHollywood.com: When did you first find out you were going to be in an episode [of 'The Flash'] with Mark Hamill?
Liam McIntyre: It was probably about four months ago – about a month before we started filming it, or just a bit over. I had heard that they were looking at maybe bringing [my] character back and that was very exciting… They don't [share the] scripts very early obviously — with good reason — so it kind of turned up across the desk and I was like, 'Are you joking?' It didn't say it, but as soon as you see the word 'Trickster' in the title, you're like, 'Holy hell! I'm in.'
WATCH: Keiynan Lonsdale (Wally West) On Joining 'The Flash'
Access: How big of a 'Star Wars' fan are you?
Liam: Pretty big. I had to actively hide [the] 'Star Wars' shoes I was wearing when I met Mark Hamill, so I had his face on my feet. I was kind of like, 'Oh, I didn't realize I was meeting you today. Sorry. I apologize in advance. You probably get this a lot.' Pretty big, yeah. For example, [last Friday], I wasn't there, but some of my friends were having like a 'Star Wars' miniature painting day where they were going to paint 'Star Wars' miniatures. I would have been in, but unfortunately, I was filming. But when I get back, maybe.
Access: Let's talk about how your characters – Mark Mardon and James Jesse – interact. Mark gets him out of prison in this episode. Do you guys get along on screen? Do James and Mark have some sort of decent relationship?
Liam: Yeah, it's fascinating because it's like, 'The Rogues: The Early Years' (laughs). It's the formative moments. … You get to really explore in this episode the different ideologies of each of the characters and where their strengths and weaknesses lie. But we get on. We're all kind of united by a desire to, I don't know, cause trouble, if you will. I think — especially Mark and James Jesse… they see eye to eye very much on dealing with Flash. … It's fascinating because James is — he's crazy and it kind of delights and terrifies Mark because he's — for want of a better word — the more together psychopath, where he's got an agenda, he's very clear and he's methodical, and he's thought [it out], whereas James is very much an 'x' factor, and that's kind of exciting because it means you can do things that people won't expect, but you also don't expect them either, which is interesting.
Access: Does your character, Mark, have any idea what a wildcard Captain Cold is? He's gone back on so many deals on the show as fans have seen, but I'm guessing Mark is not aware of Captain Cold's–
Liam: No, well, I mean, he's never had that experience. Mark knows about Leonard Snart from pre-metahuman days — from the criminal world — but in terms of the person that Snart is now? No, he thinks in Snart he'll find a smart, tactical genius, who he thinks will [carry out] what's a terrific plan and pull it off successfully. So as far as Mark's concerned, he's going in there bringing the two biggest 'x' factors he knows of into the same world. He's going to bring the guy who's clearly a criminal mastermind, as opposed to just like a very good criminal. He's clearly very intelligent, and a guy who's just so crazy he'll come up with something — they'll bring a plan that you just can't expect. And that's what he thinks he needs to defeat The Flash.
Access: The other thing fans know going into this episode is your character killed Patty Spivot's father, but is he aware of who Patty is?
Liam: Mark's done a bunch of bad stuff in his youth… He's not particularly worried about her or thinking about her. And going into this episode, not at all.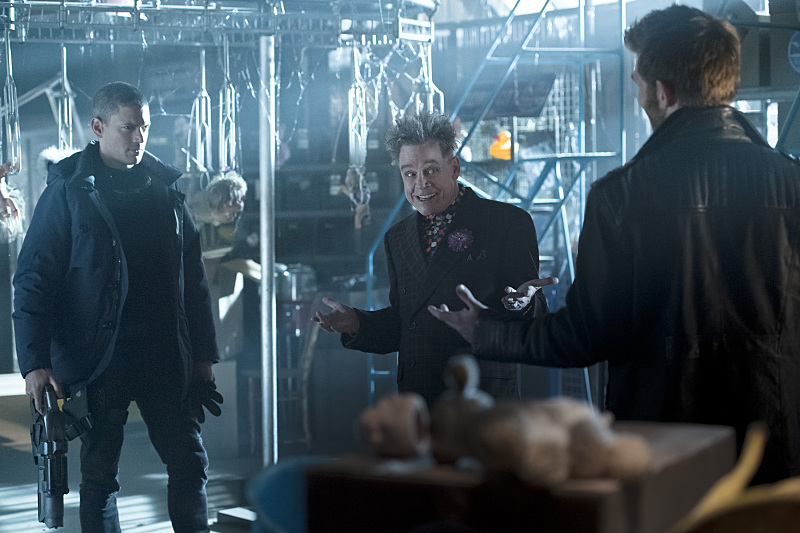 Access: I saw you guys filming [a big] scene in Vancouver — the one where Mark Hamill is in a Santa costume and you're there and Grant's there. Is this going to be a super crazy and nutty [episode]? I mean, the Trickster is in a Santa costume!
Liam: You're going to have a very Merry Christmas with this one. This is a bit of delight. Even in reading the script, it's just kind of wonderful, it's extravagant, it's eccentric, it's a little terrifying, it's a bit dark, it's not too scary, but it has it's moments where it's kind of an intense Christmas special, but it's funny and it's just got, I mean, it's got Wally West. … It's just gonna be huge. It's Mark Hamill, Wally West [Keiynan Lonsdale], lots of metahumans doing meta stuff. It's going to be great. I'm really excited.
Access: How Christmas-y is it? I've seen the signs. There was a Jitters coffee cart dressed up in garland and gold and bows outside of where you were shooting.
Liam: Yeah, it was like we're in Vancouver and I walked into a Christmas festival. I was like, 'Oh, Christmas. That's come early – earlier than normal.' It's pretty festive. I mean, you can only get Mark Hamill in a Santa suit once or twice a year, you know?
"The Flash" midseason finale airs Tuesday at 8/7c on The CW.
— Jolie Lash
Copyright © 2023 by NBC Universal, Inc. All Rights Reserved.
This material may not be republished, broadcast, rewritten or redistributed.