John
Constantine arrives in Star City on this Wednesday night's "Arrow."
With
Sara Lance (Caity Lotz) a danger to everyone since that magical resurrection in
the Lazarus Pit turned her wild, unpredictable and even more deadly, Oliver
Queen (Stephen Amell) is forced to call in a favor from his old friend.
Although
actor Matt Ryan had another project in the works on Broadway, producers of The CW show were
able to get the Welshman to slip back on the trench coat, loose tie, slacks and
button down shirt to once again play John Constantine (from NBC's 2014-2015 drama "Constantine"), for
Wednesday's episode of "Arrow."
PHOTOS: 'Arrow' Season 4, Episode 4 — 'Haunted' (Featuring Constantine!)
Ahead of his evening performance in "Thérèse Raquin," on the Studio 54 stage alongside Keira Knightley (in her Broadway debut), Judith Light and Gabriel Ebert, Matt spoke with Access Hollywood about his "Arrow" debut.
AccessHollywood.com: First of all, who called you and said they wanted yto make a Constantine appearance happen on 'Arrow'? When was that call made? How did this all come about?
Matt Ryan: I actually first heard about it when they announced it at Comic-Con and I was hearing rumors from fans on Twitter that – 'Are you going to be on 'Arrow'?' People were asking me and I was like, 'I have no idea.' I had booked another job, so I was like 'Well, no, I'm doing this amazing play.' But then… my UK agent called me and said, 'Look, this is real. They wanna make it work, so let's do it.'
Access: Were you nervous at all about putting back on the trench coat [and] getting back into John Constantine?
Matt: I was excited. He's such an iconic, amazing character and he's so fun to play and he's dark and he's funny and it was great. I was so excited. Obviously, when the show wasn't picked up, I was disappointed and I felt that I still had unfinished business with the character, so to be able to get the trench coat on again was a great thing.
Access: And it's kind of rare to have a crossover like this work so well. Did the experience feel very special because of that, or was it exciting to put it back on no matter what?
Matt: I think, fundamentally, just to kind of get in his skin again was a great thing, but to see these two iconic DC characters interact — and [the] first thing I thought was how would they interact, what would be their story and how would John react to Oliver Queen and vice-versa? And that's what really excited me about doing it.
Access: Stephen said you were walking around on set saying, 'I gotta find him.' How hard was it to find [the character again]?
Matt: (Laughs) Well, it's funny because the first take I did, I was like, 'What am I doing?' And then… I started jumping around and shaking around and then, actually, it was probably about two or three takes and I was like, 'There he is.' The physicality of him came back and it was great and Stephen's such a joy to work with as well. He's been a champion of the show 'Constantine' since we started and to be able to work with him was fantastic. And he's a wonderful actor and a great man.
Access: What was it like on set working with him and with the rest of the cast?
Matt: It's was great. You know what's interesting – they're on their fourth season now and I think that doing a TV show for so long, people can get jaded, it can wear them out or they can start to take the experience for granted and going on to the set of 'Arrow' was not like that at all. Everyone was so welcoming and so up for doing the work and that was really, really fantastic. And on 'Constantine,' we really did have a family and it was a wonderful experience and to go into the 'Arrow' world, where they have their own family was wonderful because they welcomed me with open arms and I really felt at home.
Access: [Tell us] about the costuming. Was any of it the same from 'Constantine' or how did that work out?
Matt: Yeah, it was actually the same costume that we had for 'Constantine' — the same trench coat that we used all season. … At the end of the show we changed the jacket to a longer jacket. We didn't use that jacket because I don't think it was available, but we used the same shirt, the same trousers, the same shoes, everything, so it was literally like just putting on your old clothes.
Access: Sara Lance is back from the dead, but not quite right. How far gone is she? How bad is it when John first sees her?
Matt: What's interesting is John is called in by Oliver to help out in this situation. Magic is introduced to the world of 'Arrow' and who better to call when you need to phone a friend than John Constantine. Although that might not be a good thing — John's the type of person that normally, his friends end up dead, but you know, he's called in and he doesn't have a personal connection to the character, but he ultimately is there just to do a job and help out an old friend…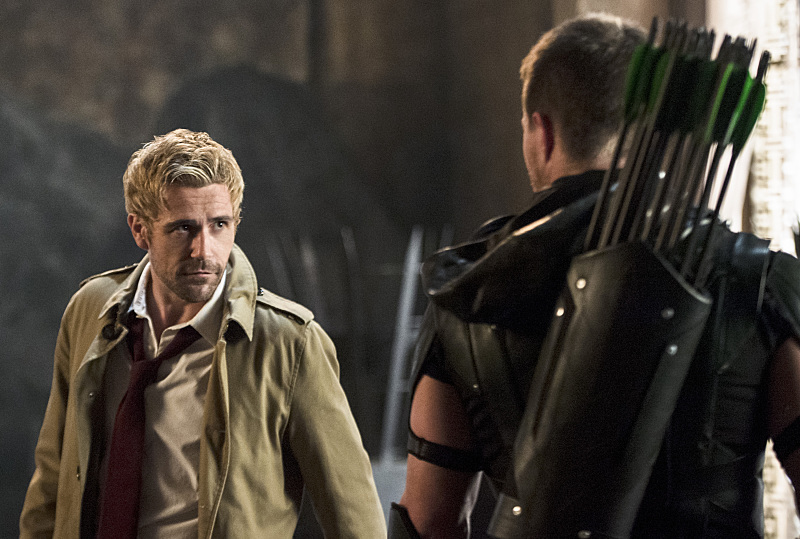 Access: Can you give us any hints as to what they'll have to go through to make her right again?
Matt: What's interesting is John knows there are worlds beyond ours, and I think that a lot of the characters on 'Arrow,' they don't really know about that universe — about that world — and John is someone who lives in it every day so he turns up with his nonchalant kind of quality and knowing that these worlds exist beyond ours, and the rest of the team on 'Arrow' are surprised by that.
Access: Arrow's also known really for its fight sequences. Did you–
Matt: I did. I got to do some fighting. It was great.
Access: How was learning the choreography? Was it difficult? What was that like?
Matt: It was great. I've done a bit of fight work earlier on in my career, but what's great is the guys on 'Arrow' — it's such a well-oiled machine and because they do so much of it, these guys were literally just teaching me how to do it and I learnt it so fast. And it was great, John picks up a sword and starts swinging a sword around, and that's not something we got to do on our show.
Access: Is it something you would be interested in going back to, either on 'Arrow' or on 'The Flash' or even in any of the other DC shows…?
Matt: I had such fun and such fond memories of doing the show 'Constantine' and all the Hellblazer fans have been so fantastic, and to be able to get the trench coat on again is a fantastic thing and it's not something that I would say no to again.
Access: How are you excited are you for the Hellblazers to see this episode?
Matt: I'm so excited for everyone to see the episode and for them to get to see John interacting with Oliver Queen, the Green Arrow, and all that team. It's a shame I won't be able to kind of watch it live and live Tweet because I'm going to be on stage at the time, but I hope that all the fans enjoy it.
Access: You're back on Broadway for the first time in several years. Has it felt different at all?
Matt: Yeah, it is a different experience. When I was first on Broadway in 2009, I was doing Michael Grandage's production of 'Hamlet,' starring Jude Law, and that was a show that we actually did in the West End, in London, and then transferred. This time, this show was created over here, so we had the whole rehearsal process here. So, it has been a different experience, but a wonderful one at that.
WATCH: Neal McDonough: Damien Darhk 'Really Loves Messing With Everybody' On 'Arrow'
Access: And you're starring opposite Keira Knightley, who is making her Broadway debut. Have you shown her the ropes at all? How is she picking it up?
Matt: Oh, she doesn't need to be shown the ropes, believe me. She's amazing. She's a true professional and a really giving actress and it's wonderful to work with her on her Broadway debut.
Access: It sounds like a really incredible production too because there are a lot of scenes where you're in the water and they've kind of made that come to life on stage. How does that work?
Matt: We actually are on a rowboat in the middle of Manhattan – it's a huge pool on a stage. It's unbelievable. As you can tell, I've got a little bit of a cold and that's because we're going into the water eight times a week. But it's amazing. You're there on Broadway, and there's a river on stage. It's fantastic.
Access: And tell me a little bit about your character. How are you enjoying playing it?
Matt: I play the character of Laurent, who is basically — he's a lothario. He's someone who doesn't have much money, he's down on his luck, but he's an opportunist. He's someone who can make the best out of any situation and he comes into the world of the Raquin family and sees an opportunity and he takes that opportunity and seduces the character of Thérèse, [who] is played by Keira Knightley. But then, ultimately, he falls in love with her and they fall in love and they engage in this adulterous relationship. … And what it's about really is what happens when people give in to their most primal urges without any sense of morality and the consequences of those actions.
Matt Ryan appears on "Arrow" on Wednesday at 8/7c on The CW. "Thérèse Raquin" runs nightly at Studio 54 in New York City.
— Jolie Lash, with additional reporting by Courtney Cox
Copyright © 2018 by NBC Universal, Inc. All Rights Reserved.
This material may not be republished, broadcast, rewritten or redistributed.