Justin Bieber is his wife's biggest fan!
The music superstar supported Hailey Bieber's latest Rhode beauty launch in New York City this week and shared new photos from their behind-the-scenes celebration.
In one Instagram snap shared on Tuesday, Justin sported a shredded sweatshirt with Hailey's full name printed on the front. The "Peaches" singer and the model appeared locked in a loving gaze while relaxing with their pups on a private jet, and Justin included heart-eyes and strawberry emojis in his post as a nod to Hailey's new Strawberry Glaze lip treatment.
The 29-year-old kicked off his tribute with an earlier post showing him and Hailey hitting up a Krispy Kreme in honor of her beauty line's collab with the donut brand.
"😍😍😍baby girl with the @rhode @krispykreme STRAWBERRY GLAZEEE," Justin teased in his caption.
The posts follow criticism from some fans who thought Justin's casual outfit of gray sweats and Crocs was disrespectful to Hailey, who turned out in a jaw-dropping red mini dress and stiletto heels.
"id be so angry if i was giving the girls my best look of the year and here come my husband," one X user wrote in a now-viral post.
However, once she and Justin were wrapped the businesswoman matched his style in a pair of comfy leisure wear herself and fans noticed Justin's subtle wardrobe update.
"The name 'HAILEY' on your shirt is everythinggggg😭😭😭" one fan commented on the pop star's post.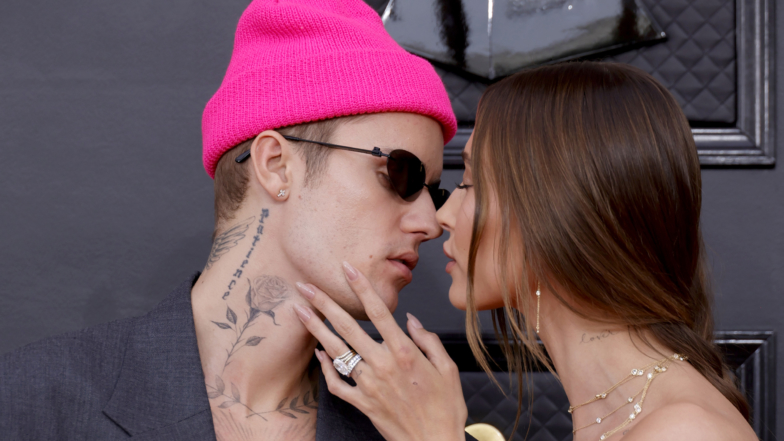 Justin Bieber Loves On Hailey Bieber At Grammys 2022: Hot Pics!
View Gallery
Copyright © 2023 by NBC Universal, Inc. All Rights Reserved.
This material may not be republished, broadcast, rewritten or redistributed.