Kate Middleton's brother, James, is a proud new dad!
The Princess of Wales' youngest sibling and his wife, Alizee Thevenet, announced the birth of his first child, a baby boy, on Instagram Friday.
"He has been in our lives for just a few weeks but they have been the most special of my life getting to know our beautiful baby boy," James wrote in the heartwarming post.
The entrepreneur and mental health advocate, 36, also revealed his son's unique name.
"No matter how prepared I thought I was…I was not prepared for the overwhelming emotion of meeting Inigo for the first time and the love for my darling Alizée as we became three," he gushed.
In the post, James shared loving photos of his newborn with the family's dogs. In one image, the James & Ella founder holds his little one's hand and a pin, which he wore to King Charles' coronation earlier this year, showing his beloved dog Ella, who passed away early this year.
"We have settled into our new life as parents and I've told him all about Ella and that if it wasn't for her he wouldn't be here today and that we miss her greatly. The dogs have been fantastic at welcoming their little brother into the pack (although Inka needs to know the [teddy bears] are not all for her…)," he joked in the caption.
Earlier this week, James was seen pushing a baby stroller on the streets of London with Alizee by his side.
In photos obtained by the Daily Mail, the new parents appeared in good spirits while out walking as a family of three.
"We would like to thank the wonderful team at Basingstoke hospital, from the very first scan to walking out the front door for the first time as three, we couldn't have felt more supported and looked after throughout so thank you NHS," he concluded the post.
The infant joins cousins Prince George, Princess Charlotte and Prince Louis, as well as Kate and James' sister Pippa Middleton's three children with husband James Matthews.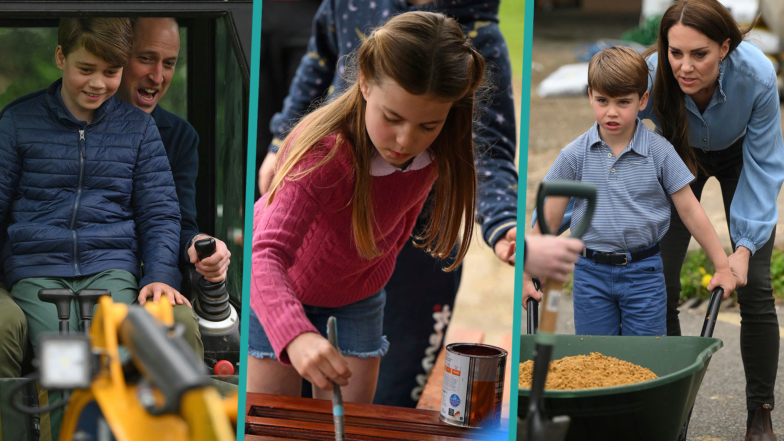 Prince George, Princess Charlotte & Prince Louis Volunteer at Big Help Out After Coronation
View Gallery
Copyright © 2023 by NBC Universal, Inc. All Rights Reserved.
This material may not be republished, broadcast, rewritten or redistributed.