Lisa Kudrow is sharing gratitude for a special Friend.
The actress was the final "Friends" cast member to issue an individual tribute for late co-star Matthew Perry on Nov. 15, sharing memories of their early days together on the beloved sitcom and reflecting on what she'll treasure most about his place in her life.
"Shot the pilot, Friends Like Us, got picked up then immediately, we were at the NBC Upfronts. Then…You suggested we play poker AND made it so much fun while we initially bonded. Thank you for that," Lisa began on Instagram, captioning a throwback photo of the pair posing together before "Friends" became an instant hit.
The Emmy nominee went on to praise Matthew's impeccable comedy skills and how he always prioritized his work and relationships throughout his own personal ups and downs.
"Thank you for making me laugh so hard at something you said, that my muscles ached, and tears poured down my face EVERY DAY. Thank you for your open heart in a six way relationship that required compromise. And a lot of 'talking.' Thank you for showing up at work when you weren't well and then, being completely brilliant," she added. "Thank you for the best 10 years a person gets to have. Thank you for trusting me. Thank you for all I learned about GRACE and LOVE through knowing you. Thank you for the time I got to have with you, Matthew."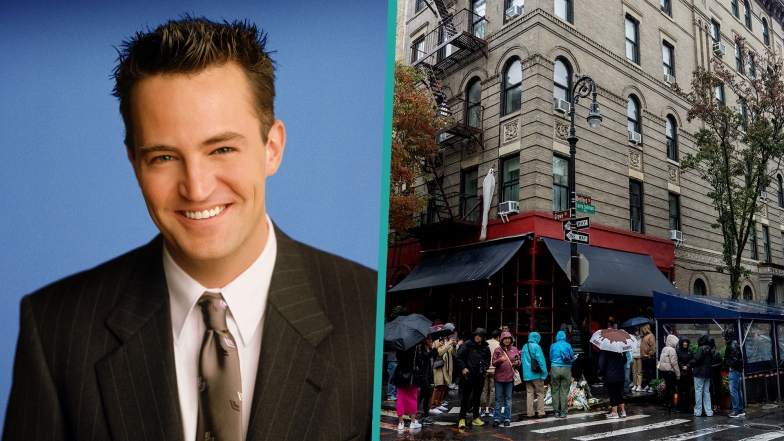 Matthew Perry Fans Pay Tribute To Him At 'Friends' NYC Apartment
View Gallery
Lisa's message came just hours after Jennifer Aniston and David Schwimmer shared similar sentiments about their beloved pal and co-star, and one day after Matt LeBlanc and Courteney Cox each reflected on Matthew's legacy as well.
Matthew was sadly found dead in his Los Angeles home on Oct. 28 at just 54 years old. Days later, the "Friends" cast addressed the tragedy in a group statement, calling the actor's passing "an unfathomable loss" and noting they were all "utterly devastated" and needed time to grieve.
The performer was laid to rest in a private memorial service on Nov. 3, which his co-stars reportedly all attended.
Copyright © 2023 by NBC Universal, Inc. All Rights Reserved.
This material may not be republished, broadcast, rewritten or redistributed.