This week on "Married At First Sight," we got to what happened with the couples after they said "I do."
Things seemed to be going well for Becca and Austin as they went to their honeymoon suite. Becca is feeling comfortable with her husband, but she's going to wait a beat before opening up to him about her health issues.
The next morning she opened up to him and told him about her surgery.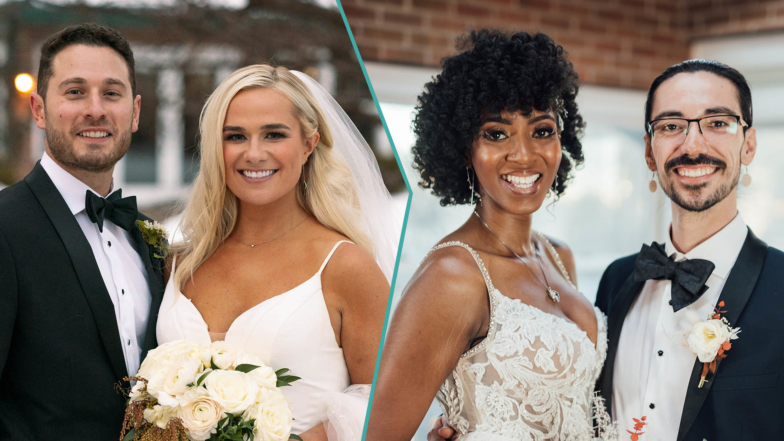 'Married At First Sight': Meet All The Couples
View Gallery
"I had an exploratory surgery and it turned into a diagnosis of endometriosis and that turned into a much more extensive surgery than they thought it was going to be. Basically, they just went in and saw that I was in pretty rough shape internally. And so they went in, they did some nice housekeeping, which caused a lot of pain," she shared.
Austin was supportive and she admitted about being nervous to tell him before meeting him.
"Before I knew who you were, I was really nervous just because I didn't know. Like, not all people react positively to it, and that's okay. You know, in past relationship ups, I have felt like a burden to them," she admitted.
Clare and Cameron went back to their honeymoon suite, but Cameron wasn't sure about how Clare was feeling.
It seemed like some classic rom-com miscommunication, as Clare wasn't sure if he was even attracted to her.
Emily and Brennan had a cuddle-filled wedding night, and she admitted that despite telling his groomsmen she wasn't opposed to intimacy on night one, she is trying to take things slower with her new hubby.
"Usually married couples have sex on their wedding night, but I decided, no, I kind of got the impression that he wants to take it slower. I need that because I think I'm jumping the gun there a lot of the time. We truly just need time in order to get there. But I love breaking up next my husband and I think it's just the first of many and it's only going to get better from here," she said.
Later, Emily met up with Brennan's close friends and family, and his mom is concerned that they might both be too much of perfectionists, which could lead to conflict down the road.
"They're both so independent and so driven. It seems like they're both perfectionists in their own way, and perfectionists is a wonderful quality for work. But those intense perfectionist qualities at home between two extremely stubborn individuals is a definite concern of mine," Brennan's mom said.
His close friend Richie also has concerns about Emily – mainly that she's never been in a relationship before diving straight into marriage.
"I'm worried about her not having past relationships. I know he's going into this with a very good mindset that this is going to work. So I'm hopeful that she feels the same way. It sounds like she's at a point in her life where she's ready to settle down and have her husband. But again, I think words can only do so much," Richie said.
Orion and Lauren both met up with each other's families and the conversations amped up quickly with their age difference and Orion's financial situation coming up.
The couples all met up to go on their honeymoons when Michael, who got left at the altar, showed up as well and explained the situation, and they were all impressed with how he handled things.
They even invited him to come on their honeymoon trip as a solo traveler, but he declined the offer.
The couples all set off for their honeymoon trip, and upon arrival, Cameron and Clare got into a bit of a tiff after he apparently didn't offer to help her with her luggage at the airport, which caused her to get upset.
And it seems like communication issues might be a thing that is going to be a bigger issue for these two, as she tried to explain how she wants physical affection, but at the same time she's not super romantically into Cameron just yet.
"I have been asking if Claire would be open to more physical touch and I've been getting a pretty strong no. So to hear her say that she wants physical intimacy, now, all I can say is I'm just confused," he said. "But I'm certainly not going to advance on someone who doesn't seem to know what they want."
"Married At First Sight"- produced by Kinetic Content – airs Wednesdays at 8pm PT/ET on Lifetime.