The products featured in this article are selected from brands that are partners of NBCUniversal Checkout. If you buy something through our links, Access Hollywood makes a commission on your purchase. Prices are accurate as of publish time. Items are sold by retailer, not Access Hollywood.
Looking to refresh your beauty game without spending a fortune? You're in luck!
We've got all the must-haves from e.l.f. Cosmetics that'll leave you feeling pretty and polished for under $20 each!
From an illuminating primer for a lit-from-within glow to a must-have smoky eye palette that works for both daytime chic and nights on the town, e.l.f. has everything you need to look your best on a budget.
What's more? Feel good about your updated makeup routine knowing that all e.l.f. products are vegan and cruelty-free.
Whether you're looking for a radiant complexion, plump pout or chiseled contour, all your beauty needs are covered with these can't-miss e.l.f items – and your bank account will thank you!
Makeup Brush Cleaning Glove
by Target$10.00The e.l.f. Makeup Brush Cleaning Glove is a convenient and portable silicone brush cleaner. The glove has multiple textures to clean both large and small brushes. Use the larger round texture to lather and wash larger brushes for deep cleaning. Use the wavy texture to cleanse and rinse the brushes along with helping straighten hairs. Use the smaller texture to cleanse and refine smaller brushes. There's also a small and large brush slot to help straighten brush hairs and to hold brushes to dry after cleansing.
Halo Glow Liquid Filter Glow Booster
by Target$14.00Achieve glowing perfection with e.l.f. Cosmetics Halo Glow Liquid Filter' the only filter you'll ever need. This innovative complexion booster and skincare-makeup hybrid is infused with skin-loving squalane and hyaluronic acid that work to enhance the overall look of skin while rendering a soft-focus, effortless radiance.
Lip Plumping Gloss
by Target$7.00Plump up the volume! e.l.f. Cosmetics Lip Plumping Gloss instantly moisturizes and enhances lips for a fuller, pillowy pout. Swipe on the gloss and evenly coat lips with a sheer wash of color and high-octane shine. It also delivers a mild-yet-alluring tingling sensation that soothes lips and makes you feel the fullness.
Flawless Face Brush Collection
by Target$15.00The Flawless Face 6pc Brush Collection by e.l.f. Cosmetics will give you everything you need to achieve all your favorite looks.
Illuminating Face Primer
by Target$8.00The e.l.f. Illuminating Face Primer is ideal for creating a radiant glow with subtle shimmer. The weightless silky formula is great for all skin types. This primer fills in fine lines and refines your complexion. Prime and let dry to enjoy makeup that blends smoothly and lasts all day!
Camo Cream
by Target$15.00Ditch your basic foundation! The e.l.f. Cosmetics Camo CC Cream is a color correcting cream that is the only product you need to achieve a natural looking complexion but with full coverage. A multitasking dream CC cream infused with collagen, peptides and niacinamide known to plump, hydrate and smooth the appearance of your skin while protecting with SPF 30.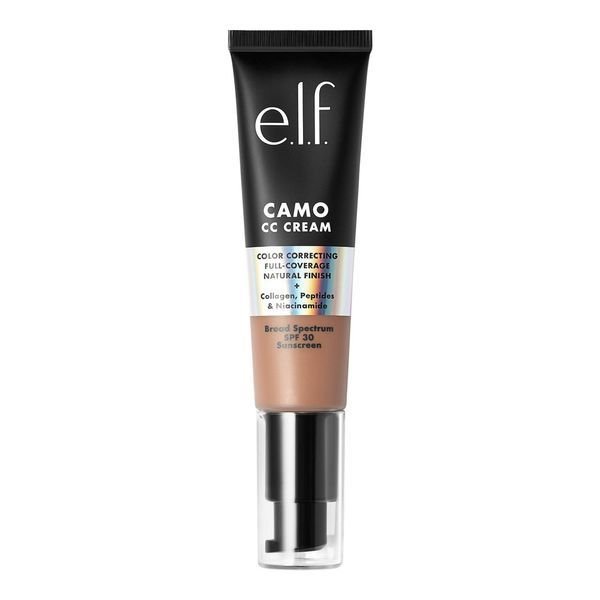 Monochromatic Multi Stick
by Target$5.00The versatile, e.l.f. Monochromatic Multi Stick is multi-use and can be used on your eyes, lips and cheeks for a soft, glowy, monochromatic look. Use this shimmery, luxuriously blendable cream-to-powder stick as your eyeshadow, lipstick, and blush for a cohesive, monochromatic look.
Complexion Brush & Sponge Duo
by Target$10.00The e.l.f. Complexion Brush and Sponge Duo will help you create a flawless complexion in 2 easy steps. 1.Using the Blending Sponge, apply your liquid foundation to create the perfect base for your makeup 2.To buff out your foundation or to apply setting powder, use the Flawless Face Brush.
18 Hit Wonders Eyeshadow Palette
by Target$14.00There's always that one shade in every palette that you covet. We took all of those shades and put them into one iconic palette. The vibrant, colorful e.l.f. 18 Hit Wonders Eyeshadow Palette contains only the best, most swatch-worthy shades, designed to inspire bold, vibrant eyeshadow looks.
Cream Contour Palette
by Target$9.002016 Allure Magazine Best of Beauty Award Winner! Designed to highlight, sharpen, and sculpt the e.l.f. Cream Contour Palette gives you a professional finish every time.
Pro Eyelash Curler
by Target$5.00This premium eyelash curler gives you that long-lasting, eye-opening lift for lashes that appear longer and more voluminous. Ergonomic handles make this curler comfortable and easy-to-use.
Hydrating Core Lip Shine Makeup
by Target$7.00The e.l.f. Hydrating Core Lip Shine is a 2-in-1 melting lip balm combining an outer shell with a hint of color, and an inner heart shaped core packed with skincare benefits. Infused with vitamin E to give your lips the nourishment they've been looking for.
Prime & Stay Finishing Pressed Powder
by Target$4.00The e.l.f. Prime and Stay Finishing Powder is a lightweight, tinted powder that sets your makeup and helps blur the face for a smooth, shine-free complexion.
Lash Beats Defining & Lengthening Mascara
by Target$6.00Stand out without going all out. e.l.f. Cosmetics Lash Beats Defining and Lengthening Mascara is formulated with fibers to give your lashes limitless length and definition for a naturally enhanced look.
Daily Dew Stick
by Target$8.00Achieve healthy, glow-from-within skin in just a few swipes with e.l.f. Cosmetics Daily Dew Stick. These highlighter sticks enhance your complexion with a sheer wash of subdued color and pearlescent finish, leaving your skin with an all-day dewy radiance.
Lash & Brow Comb
by Target$5.00Try America's #1 Brushes!* This e.l.f dual sided lash and brow brush creates beautifully groomed lashes and brows by helping remove mascara clumps and easily defines the brows.
Everyday Smoky Eyeshadow Palette
by Target$10.00Now with even more shimmer! Achieve both beautifully bold or subtle everyday eye looks with these perfectly curated 10 smoky eyeshadow shades. This collection of hues is ideal for shading, highlighting, and defining the eyes. These silky-smooth shadows can be used as a liner, on the lid, and in the crease of the eye for an expertly contoured and blended look.
Powder Blush Palette
by Target$9.00This beautiful blush palette holds 4 gorgeous shades to mix and match throughout the year for a custom blended color. Great for contouring, shading, sculpting, and highlighting, these silky smooth blushes create a beautiful pigmented glow.
Copyright © 2023 by NBC Universal, Inc. All Rights Reserved.
This material may not be republished, broadcast, rewritten or redistributed.