Robert Irwin has seen firsthand how much getting diagnosed with and treated for endometriosis has helped his sister Bindi Irwin.
"She's actually a new woman. She is a new person," the wildlife conservationist told Access Daily's Mario Lopez and guest co-host Courtney Lopez in a new interview.
Robert said that seeing his sister's health challenges – and how long she went undiagnosed – has motivated him to advocate for others going through the same thing.
"I've kind of inadvertently become a big women's health advocate recently," he said. "Seeing my sister go through this was very challenging. She went really downhill very quickly. I mean, there was a time where she won 'Dancing with the Stars.' She was at the top of her game and was really masking all of these hidden issues, and it snowballed. She was in a bad way."
"So many people go undiagnosed. So many people don't ever get treatment or address endometriosis, so it's very important to keep asking questions. Keep it on your radar. I really think it's important. This is a discussion not only for women to have, but for the dudes to have as well, for everyone to be discussing this. It's not just a women's issue. This is something we all need to talk about," he continued.
Robert said that "it's amazing having [his] sister back" – and he's sure his niece Grace is just as happy.
"Little Grace, her little daughter, is loving it, because keeping up with her is a full-time job, honestly," he shared.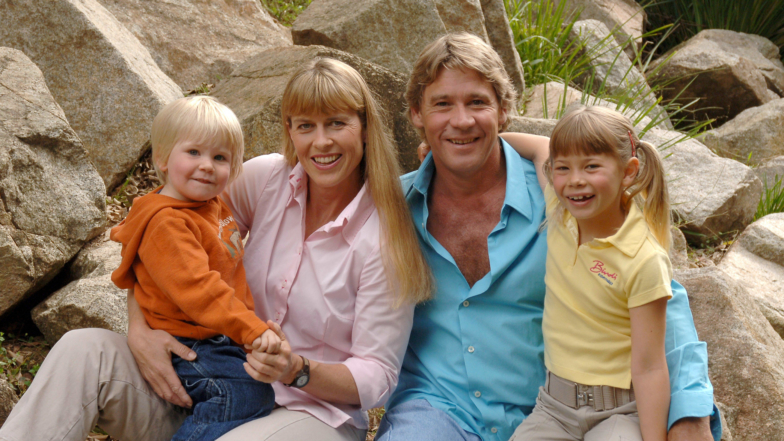 Bindi, Robert, Terri and Steve Irwin Family Photos
View Gallery
Robert's remarks come hours after Bindi shared a lengthy Instagram video detailing her years-long struggle with endometriosis, which began when she was just 14 years old.
"I was getting extreme fatigue, nausea, pain," she said. "Many people think with endometriosis you only get symptoms during your period, that time of the month. I had pain every single day of my life, and it really started when I was 14 years old. Suddenly, no matter where we went or what we were doing, I would just be falling asleep wherever we were, and I also felt constantly like I had the flu."
As she got older, she began looking into her symptoms – getting scans, ultrasounds, MRIs and more – but struggled to find answers.
"We tried and tried and tried for years and years and years, and then finally a doctor said to me, this is just part of being a woman, and that's when I gave up," she said. "I stopped looking for answers, I stopped trying to find help. It wasn't until after I had my beautiful daughter Grace that I picked back up again, trying to figure out what was wrong with me."
Bindi said that being pregnant and giving birth to Grace exacerbated her undiagnosed pain.
"After having beautiful Grace, my pain levels were out of this world," she said. "I can remember countless times of Grace needing me and me crawling to her cot at night. I can remember being with Grace and just laying on the floor in agony, because I would have stabbed pain in my side. I literally could not get up, or I would throw up, or I was scared I would pass out," she explained, tearing up.
Last August, Bindi decided to give her search for answers another shot, but she was misdiagnosed with IBS.
However, when she later saw her friend Leslie Mosier share her own story about endometriosis, everything clicked for her.
Bindi Irwin and Chandler Powell Cute Couple Pics
View Gallery
Earlier this year, Bindi flew to the United States to undergo an excision surgery, and she assured fans that she's "finally feeling better."
Robert and her mom Terri Irwin by her side through it all, and she shared her thanks for their support her caption. It read in part, "Enormous gratitude to my incredible mum and brother for being there with me every step of the way, including my treatment and surgery. It was because of them that I have a second chance at life. I will never be able to thank them enough for all that they have done for me and our family."
See Robert's interview with Mario and Courtney on "Access Daily" on Wednesday, May 10.