Priyanka Chopra Jonas and Sam Heughan find love in an unexpected way in their new film "Love Again."
In the movie, the pair start an unexpected relationship after Priyanka's character, Mira Ray, sends a series of romantic texts to her late fiancé's old cellphone number, not realizing it had been reassigned to Sam's character Rob Burns.
The duo have fantastic chemistry on-screen and their relationship carries on off-screen, with the "Outlander" star admitting the "Quantico" alum is now "a good friend."
"She is such an amazing person. I admire her so much. She's the heart of this movie," he said told Access Hollywood at the film's New York screening. "When I first met her, you know, I'm such a fan of her work anyway and then we just got on really well. She brings so much gravitas and emotion to the part of Mira and it's been so fun to play opposite her. So yeah, I feel very, very lucky."
'Outlander's' Sam Heughan
View Gallery
The film also struck a chord for the 43-year-old who told Access there is something "really humane" about the romantic comedy.
"We've been through a lot recently. The last few years have been, you know, pretty testing on everyone with the pandemic and, you know, there's a lot of darkness in the world so I think it's time for something that makes us feel good and I think this is exactly that," he said. "It's a bit of an homage to the '90s rom-coms and, yeah, sorely needed."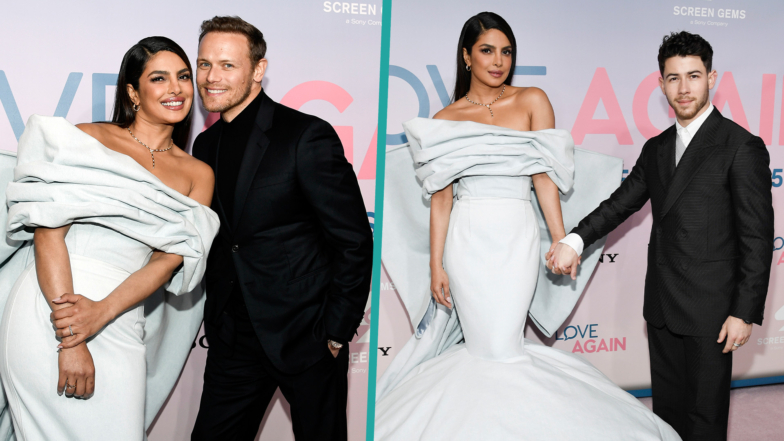 Priyanka Chopra And Nick Jonas Hold Hands In Sweet PDA Moment At 'Love Again' Screening
View Gallery
And the film has a special cameo from Priyanka's husband, Nick Jonas, who she said was not supposed to be in the film, but he happened to be in London at the time of filming in 2020.
"Nick was never supposed to do the movie," she told Access. "The scene was that the actor has to lick my face in slow motion, and I was just like, really stressed out about it. But he happened to be in town. So, I really like took a wifey favor and I was like, please and you know, he did it. So, it was really cool."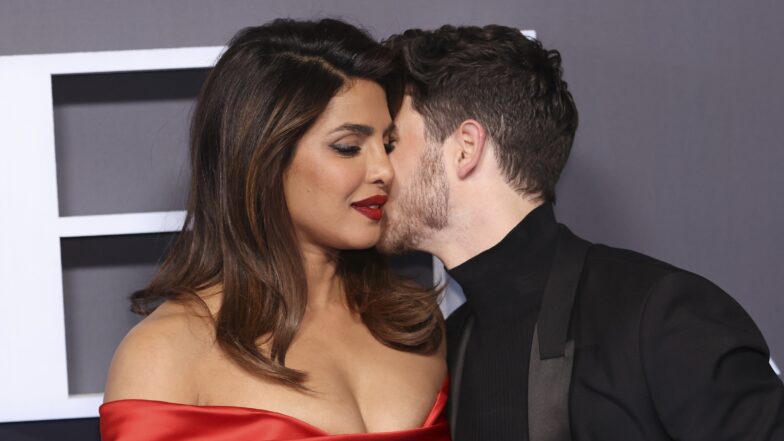 Priyanka Chopra Jonas & Nick Jonas Pack on the PDA at 'Citadel' Premiere
View Gallery
Nick isn't the only superstar in the movie, Céline Dion, is making her feature film debut and is also releasing five new original songs on the soundtrack.
"Isn't it crazy that this is her first acting debut?" Priyanka told Access. "Like it's the first time she's acted, she's so natural, so funny."
"I defy you to not come and watch this movie and leave, like humming them or singing them in the shower," Sam said. "We're so lucky that she sort of chose this as her acting debut and to have her music in a movie really just elevates it."
Last month, Céline released "Love Again" which is the first song she has dropped since revealing her Stiff-Person Syndrome diagnosis on Instagram in December. The Grammy winner is releasing five new songs for the movie, which will be featured on the soundtrack.
"[She is] an amazing woman gracious and was just so into, you know, being there for the movie, being there for us, whether it's [executive producing] the movie, providing the soundtrack, find new songs, acting in it herself," Priyanka told Access. "She's really behind it. So that makes you feel really good… she's literally the queen of love."
"Love Again" hits theaters May 5.
-Emely Navarro