The products featured in this article are selected from brands that are partners of NBCUniversal Checkout. If you buy something through our links, Access Hollywood makes a commission on your purchase. Prices are accurate as of publish time. Items are sold by retailer, not Access Hollywood.
What "Real Housewives" fan hasn't wished they could channel their favorite past and present cast member's style? Now, you can! Thanks to these chic and trendy items from businesses founded by the reality stars themselves, it's never been easier to score Bravo-ready fashion, skincare, accessories and more.
From Kandi Burruss' luxe body oils and moisturizers to Shannon Beador's revitalizing supplements, we've got products for every "Housewives" viewer. An added bonus? All these deals from women-owned brands are right on time for Women's History Month. Pick your faves below!
5 Languages Hoodie
by Adriana de Moura$45.00"5 Languages" Softstyle Hoodie.
Silk Turban
by Adriana de Moura$49.00Head turban in Mulberry Silk.
BK Massage Oil Trio Gift Set
by Bedroom Kandi$24.00Bedroom Kandi's massage oil trio is a blend of 100% natural massage and body oils to provide a smooth, sleek glide to enhance any sensual touch. This nutrient-rich formula moisturizes skin without greasy residue, absorbing for a deeply conditioning and relaxing massage.
BK Belly Love
by Bedroom Kandi$24.00Belly love is an all-natural, vitamin-infused skin butter designed to help nourish and soothe skin around your belly, breasts and hips to keep skin supple and ease the appearance of emerging stretch marks by encouraging your skin's natural elasticity.
Vita Eye Repair Cream
by CaraGala $52.00Vitamin K combines with powerful plant based proteins in this luxurious anti-fatigue eye cream which nourishes and de-puffs fragile skin around the eye. Your eyes will look and feel refreshed instantly!
Radiant Peel Pads
by CaraGala$65.00There's a reason we've included this product in all three of our regimens! Too often we forget the importance of exfoliation. Radiant peel pads provide a quick, easy way to create a smooth foundation so your skin will better absorb nutrients and have a radiant glow!
Have A Nice Day T-Shirt
by Happy Place Brand$34.95Maybe the softest t-shirt ever. Happy place t-shirts are not only super soft and comfy, but they are made using organic cotton and recycled polyester yarns, because sustainability feels so good. Our t-shirts are unisex sized for everybody.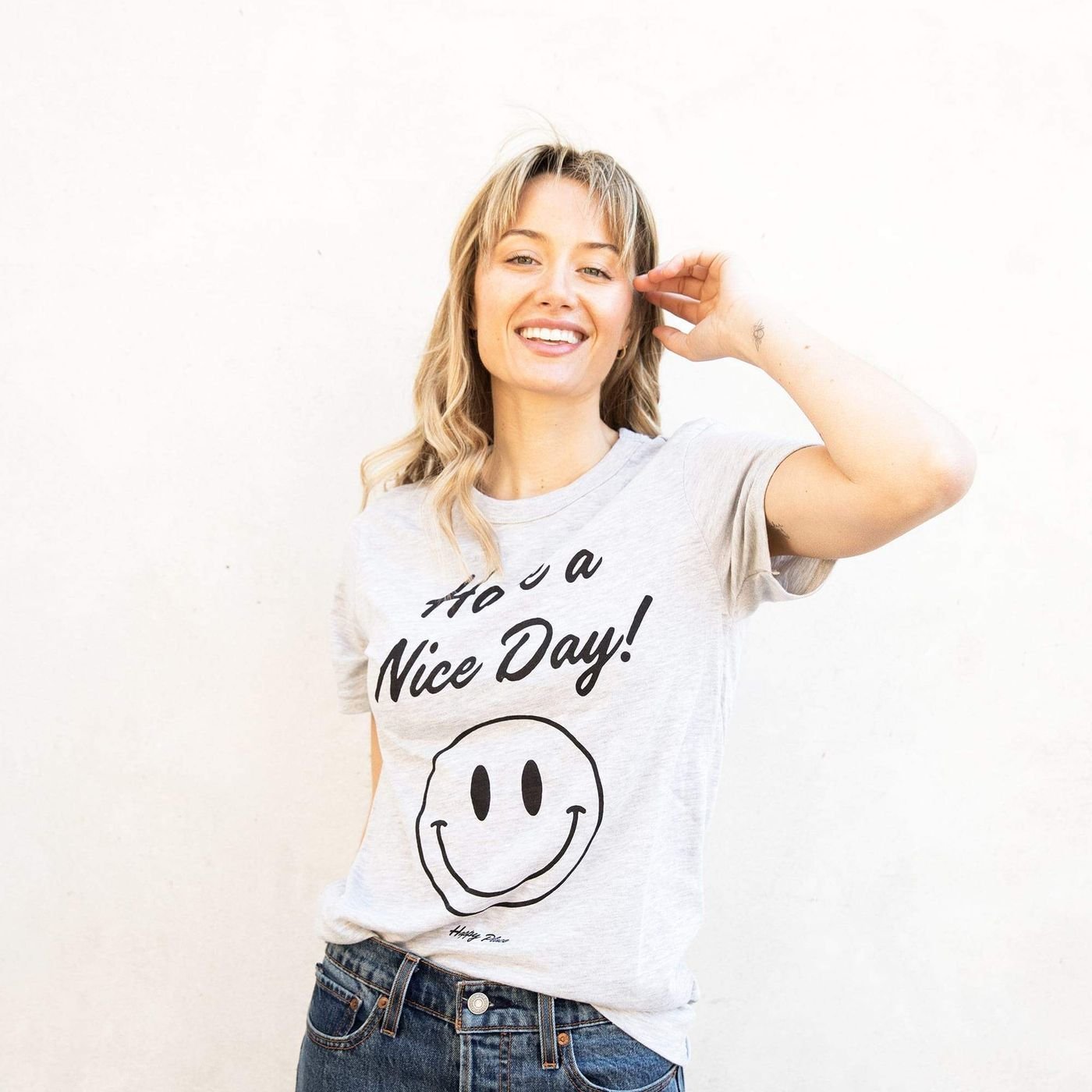 The Weightless Waffle Robe
by Happy Place Brand$109.95Introducing Happy Place weightless waffle knit – this lightweight, breathable, absorbent, and unbelievably comfortable robe won't weigh you down, even right out of the shower.
Tell Me Everything T-shirt
by Jill & Ally$45.00Visiting day is here, and you better believe we're going to tell you everything about it! This crewneck tee from our limited edition capsule collection is perfect for your summer getaway. Channel '90s camp vibes with this adorable t-shirt.
Black Obsidian & Tiger's Eye Crystal Manifestation Candle
by Jill & Ally$55.00Protect your peace when you light this 100% soy candle. Once the wax has melted, keep the obsidian and tiger's eye crystals to shield yourself from negative energy and bring courage and confidence in your life.
Future Reality Star Sweatshirt
by Jill Zarin$56.00We all know you were made for this life. Wear this sweatshirt with your crew so they know to show up as a "friend of," when you get your big break and start filming!
FBI Hat
by Meredith Marks$39.00Embroidered FBI hat with mm logo on back and adjustable velcro strap.
Pink Waffle Robe
by Meredith Marks$98.00Each robe is woven in 65% natural cotton and 35% polyester. Our signature waffle weave creates an absorbent yet breathable fabric.
Lemon-Aid Daily
by Real For Real$34.95Lemon-Aid Daily is a multifunctional supplement created with a powerful combination of vitamins and antioxidants. It supports immunity health, increases energy, supports metabolic health, and promotes heart and respiratory health.
Sleep-Aid
by Real For Real$24.95Sleep-aid is a unique combination of natural ingredients that your body needs to sleep soundly.
Restore and Glow
by Wild Rose Beauty$89.00Anti-aging oxygen serum energizes skin function by increasing cellular oxygenation. This stimulation supports the healing and repair response in the skin, increases skin thickness, refines the appearance of wrinkles, evens skin tone, texture, and restores elasticity and firmness to the skin. This supercharged formula evens out redness, discoloration and helps control blemishes. It does it all!
I Have The Effin Chills Hoodie
by Wild Rose Beauty$45.00I Have the Effin Chills hoodie. Comfy and trendy!
Copyright © 2023 by NBC Universal, Inc. All Rights Reserved.
This material may not be republished, broadcast, rewritten or redistributed.