The products featured in this article are selected from brands that are partners of NBCUniversal Checkout. If you buy something through our links, Access Hollywood makes a commission on your purchase. Prices are accurate as of publish time. Items are sold by retailer, not Access Hollywood.
Get ready to put your best face forward this Spring!
TikTok fave Sarah Cheung has been taking the cosmetics game with her Sacheu Beauty line, and now you can score her best products right here for as low as $12!
From the brand's signature Stay-N-Peel Lip Liner tattoo — inspired by Sarah's viral TikTok! — to all the skincare essentials you'll need in one perfect kit, check out Sacheu's must-have items below and stock up for the season!
Whether you're looking for a rich moisturizer, reliable blemish control or a luxe sleep mask to help you catch up on that well-deserved beauty rest, we've got the perfect lineup for all your self-care needs.
Stainless Steel Gua Sha
by Sacheu Beauty$32.00Used in Chinese medicine for tissue healing, this beauty tool has the power to prevent dynamic wrinkles, enhance your natural contour, and relieve muscle tension.
Stainless Steel Facial Roller
by Sacheu Beauty$35.00Introducing the 2-in-1 BEAUTY ROLLER! Inspired by facial massage in Chinese beauty, this tool increases oxygen and nutrient delivery to the skin, instantly de-puffs, and reduces inflammation. Made with 100% stainless steel, this tool is colder, cleaner, and more sustainable than alternatives. Safe and effective for ALL skin types.
Slick Skin – Gua Sha Serum
by Sacheu Beauty$22.00A silky, plush serum that glides over the skin, creating the ideal slick surface for facial massage.
Stainless Steel Body Gua Sha
by Sacheu Beauty$38.00Used in Traditional Chinese Medicine for tissue healing, the Body Gua Sha is a powerhouse tool for deep tissue massage and overall skin health. This effective treatment helps ease muscle tension, increases stimulation, and regulates your body's chi.
Stay-n-Peel Off Lip Liner Tattoo
by Sacheu Beauty$30.00This long-wear lip liner keeps your lips in line all day and night, for fuss-free lip looks that stay sharp for hours. Infused with Hyaluronic Acid and Vitamin E for conditioning benefits.
We Occlusive – Intense Overnight Moisturizer
by Sacheu Beauty$14.00We've been seeing each other every night, let's be occlusive ;). The final step of your skincare routine, this innovative, lipid-rich moisturizer forms an occlusive barrier over your skin, preventing transepidermal water loss and sealing in your skincare actives.
Skin Barrier Boosting Kit
by Sacheu Beauty$60.00This simple yet effective routine was made with your skin barrier in mind. Packed with bouncy, skin-loving actives, this skin barrier-boosting trio will help strengthen and protect your skin's natural barrier to promote a healthy, glowing complexion.
Fresh Start Kit – Roller + Cleanser
by Sacheu Beauty$49.00The nourishing and emollient ingredients in Breakup Balm provide are a perfect slip agent for facial massage with the dual-sided facial roller. Made for people who prefer to do their cleansing and massaging at the same time!
Gua Sha Starter Kit
by Sacheu Beauty$44.00A match made in heaven. Make your gua sha massage routine frictionless with SLICK SKIN: a nourishing lipids serum with a velvety texture, making it a perfect slip agent for the gua sha massage.
Spot Eraser – Blemish Drying Lotion
by Sacheu Beauty$13.00This powerful acne-fighting spot treatment contains Benzoyl Peroxide to target acne-causing bacteria.
The Og Kit – Slick Skin + Gua Sha + Roller
by Sacheu Beauty$65.00Perfect your skincare routine with the Ultimate SACHEU Beauty Kit, combining the Gua Sha and dual-ended Facial Roller with SLICK SKIN. SLICK SKIN is specifically designed to perfectly complement our Gua Sha and Facial Roller to create sufficient slip during facial massage while restoring your skin barrier.

Breakup Balm – Gentle Cleansing Balm
by Sacheu Beauty$12.00A water-activated cleansing balm that emulsifies from balm to oil to milk to water, and rinses away makeup, dirt and sunscreen leaving a smooth, clean complexion with no residue.
The Basics Kit – Cleanser + Moisturizer
by Sacheu Beauty$39.00These skincare essentials were created with your skin barrier in mind. Cleanse and moisturize your skin with these nourishing, fragrance-free, and non-irritating formulas.
The Essentials Kit
by Sacheu Beauty$49.00Complete your SACHEU skin routine with our three treatment products that brighten your skin, treat blemishes, and condition your lips.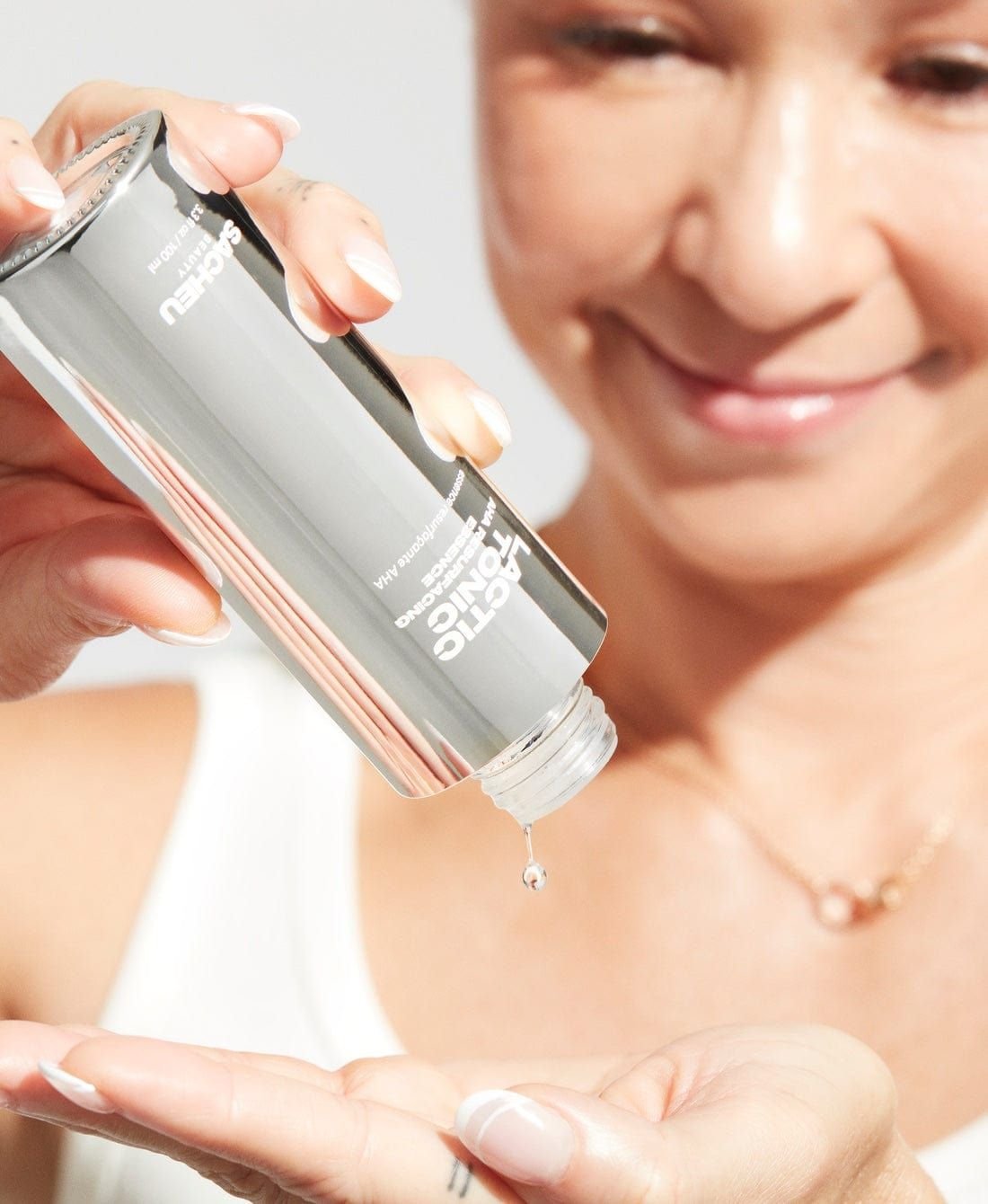 Silky Sleep Set – Rose Pink
by Sacheu Beauty$12.00The Silky Sleep Set is the perfect addition to your beauty sleep. Reduces friction on the skin and helps to keep your hair frizz-free.
Copyright © 2023 by NBC Universal, Inc. All Rights Reserved.
This material may not be republished, broadcast, rewritten or redistributed.