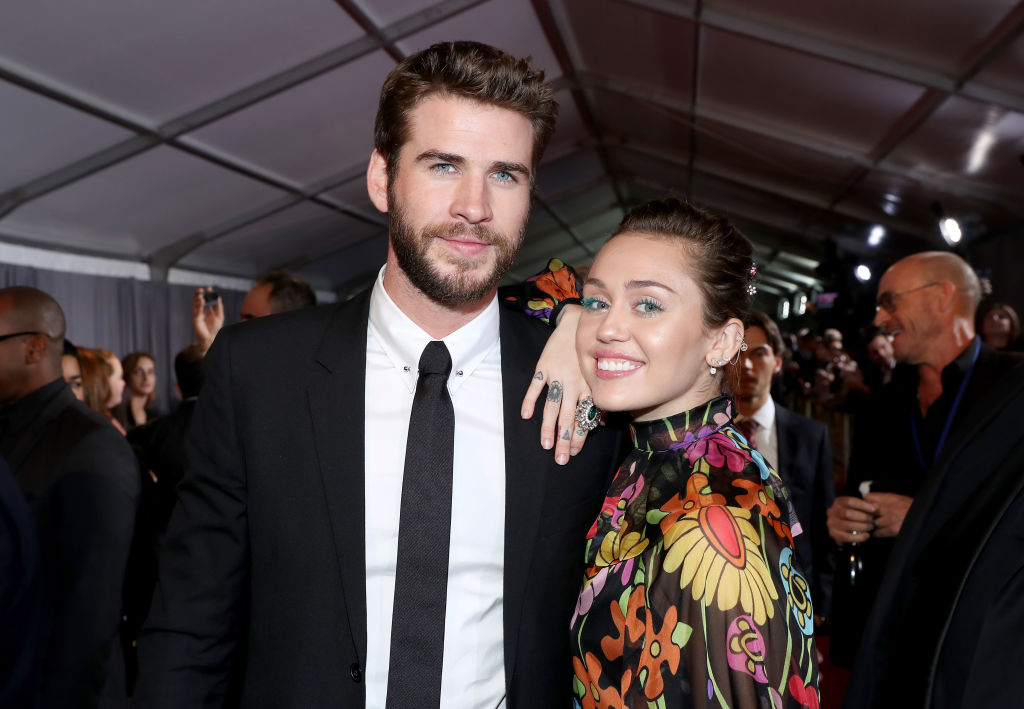 Are Miley Cyrus and Liam Hemsworth officially married?
The longtime couple appeared to have tied the knot on Sunday night at their Franklin, Tennessee, home in a ceremony attended by both of their families. Photos and videos posted to Instagram Story on the couple's pal Conrad Jack Carr's account show all the Hemsworth brothers doing a "shotski" and Liam dressed in tuxedo.
Behind the brothers are Mr. and Mrs. Balloons, suggesting that Miley and Liam may have tied the knot.
Liam's brothers Chris and Luke were both dressed in matching white and black aloha-style shirts. Chris also had a tuxedo jacket over his shirt, nearly matching Liam.
Miley's mom Tish and her sisters Brandi, 31, and Noah, 18 also appeared in videos on social media. Noah looked casual in a black turtleneck while Brandi opted for an off-the shoulder white top.
Miley was dressed in a white dress and was seen standing beside Liam. Glasses of champagne and cupcakes can also be seen around the table.
While Miley and Liam have yet to take to their official social media accounts to announce any happy news, the celebration does seem to point to the possibility that they are married. The pair first got engaged back in summer 2012 after meeting on the set of "The Last Song." The couple was on-again, off-again at multiple points and eventually broke off their 2012 engagement in 2013. In 2015, the couple rekindled their romance and have been going strong ever since.
The duo recently weather a difficult storm when they lost their Malibu home in the fires. Miley told Jimmy Fallon that a lot of love and memories were shared at their home.
So can we all say congrats to the happy couple already!?
Copyright © 2021 by NBC Universal, Inc. All Rights Reserved.
This material may not be republished, broadcast, rewritten or redistributed.