Joe Jonas took a quick break mid-Jonas Brothers concert to make one fan's tattoo dreams come true!
While he and his brothers were performing at TD Garden in Boston on Aug. 15, the "Waffle House" singer spotted a concertgoer named Tarryn, who was holding up a sign that read, "Draw Me A Tattoo?"
Tarryn shared a TikTok video of the musician grabbing a black marker and drawing her an original design – a doodle of two smiling faces next to each other.
"It's me and you," he said before walking away to continue the performance.
"He drew me and him!" Tarryn wrote onscreen, showing a close-up of the adorable design.
The TikTok then cut to a clip of a tattoo artist inking the faces on Tarryn's leg.
"Can't believe this happened!!!" the caption read.
The sweet moment comes as the Jonas Brothers continue their world tour, which kicked off in New York City this past weekend.
The brothers will perform across North America through the fall, then return to the stage in February 2023 for a second leg of concerts in Oceania and Europe that will conclude in June.
In its first week, the tour has already given fans lots of memorable moments!
Jimmy Fallon made an unexpected appearance onstage at their New York City show and sang the hit The Killers song "Mr. Brightside," getting whole crowd to sing along.
WATCH: Jimmy Fallon Surprises Jonas Brothers Fans At Yankee Stadium Show With Epic 'Mr. Brightside' Cover

Kevin, Joe and Nick Jonas' respective wives – Danielle Jonas, Sophie Turner and Priyanka Chopra – also joined forces to celebrate the tour's opening night.
It was an emotional night for Priyanka, who was spotted wiping a tear when her husband and his brothers first took the stage.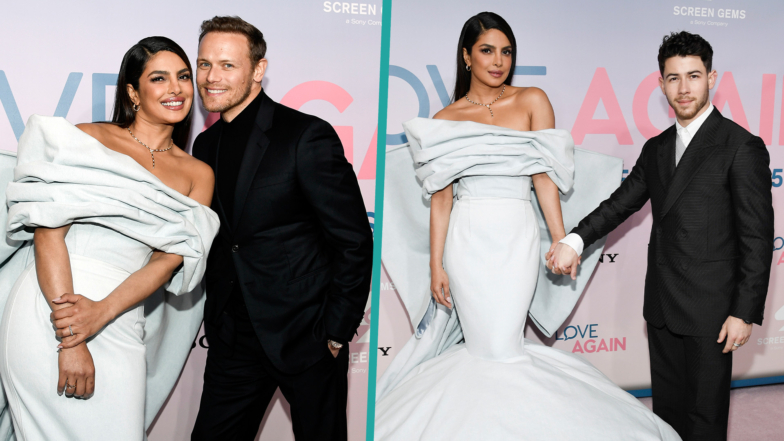 Priyanka Chopra And Nick Jonas Hold Hands In Sweet PDA Moment At 'Love Again' Screening
View Gallery
The "Citadel" actress also brought their daughter Malti to NYC for the special day. Nick shared a sweet Instagram photo of the 1-year-old hanging out with him before the show and captioned it, " From sound check to the stage with my girls. Yankees night one was beyond words. Can't wait for night two tonight."