Fore! Justin Timberlake was all smiles while partaking in a fave hobby.
The pop superstar attended the PGA Tour's World Wide Technology Championship in Cabo San Lucas, Mexico, last week, marking his first major outing since the release of ex-girlfriend Britney Spears' memoir in October.
According to photos obtained by People, Justin, 42, chatted and laughed with fellow players including the PGA's Keith Mitchell. He was reportedly among the celebrities participating in Tiger Woods' four-hole event at the Diamante resort.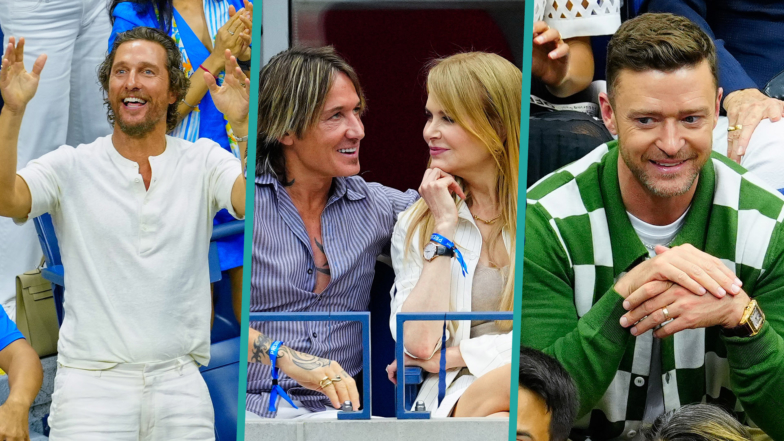 Justin Timberlake, Nicole Kidman, Keith Urban, Matthew McConaughey & More Celebrities At 2023 US Open
View Gallery
The event marks a rare sighting for Justin amid the continued conversation surrounding Britney's bombshell book. "The Woman in Me" became an instant bestseller and chronicles Britney's rise to fame and 13-year conservatorship saga, while also making multiple allegations about her and Justin's past relationship.
Even five-time Oscar nominee Michelle Williams has been included in the chatter, following her acclaimed turn narrating the book's audio version. In one section, Britney reflects on an alleged moment when Justin greeted rapper Ginuwine with an enthusiasm that the actress seemed to have fun impersonating.
Listeners flooded the internet with hilarious reactions to the now-viral clip, with many praising Michelle's dedication to her work and wondering if she could even nab a Grammy for the performance.
Justin himself has yet to weigh in publicly on "The Woman in Me" and a rep for the music superstar has not responded to Access Hollywood's multiple requests for comment about Britney's various claims in the memoir.
The pair dated for three years before their 2002 split and Britney looks back at multiple ups and downs from their relationship throughout the book, including cheating accusations and the bombshell claim that she became pregnant while they were together and had an abortion.
The now-41-year-old mom of two also shared how distraught she was about their breakup, writing that she "could barely speak for months" in the aftermath.
"Whenever anyone asked me about him, all I could do was cry. I don't know if I was clinically in shock, but it felt that way. Everyone who knew me thought something was wrong with me, really wrong," she added.
Justin has appeared to disable his Instagram comments following uproar over the book. A source told People recently that the performer has been concentrating on his own personal and professional growth and enjoying time with loved ones including wife Jessica Biel and their two sons, Silas and Phineas.
"He's happy at home with Jess and their kids and he's focusing on new music. He's in such a great place," the insider said.
Copyright © 2023 by NBC Universal, Inc. All Rights Reserved.
This material may not be republished, broadcast, rewritten or redistributed.