Kate Middleton's mommy senses are always tingling!
The Princess of Wales and her husband, Prince William, traveled to Scotland on Nov. 2 to visit Outfit Moray, a charity devoted to outdoor activities for all ages.
The royal couple cheered on children riding their bikes at the event and Kate sprung into mom mode to comfort one little boy who took a tumble, as seen in video shared on X by MFR News and Sport.
👑 Pupils at @BurgheadPrimary are explaining what the Prince and Princess were talking to them about, including how Kate hurt her finger recently, while playing on the trampoline!

We're also hearing how the Duchess of Rothesay helped console a little boy who fell pic.twitter.com/ZzH6fdeaSo

— MFR News and Sport (@MFRNews) November 2, 2023
William and Kate even got active themselves, as they were seen sporting helmets and showing off their impressive cycling skills!
🎥 They heard more about what @OutfitMoray do in the community and even had a go on some bikes.

🚴 CEO Tony Brown tells us if he was worried when they went round the course. pic.twitter.com/oXnt6nRlGI

— MFR News and Sport (@MFRNews) November 2, 2023
The Prince and Princess of Wales, who are known as the Duke and Duchess of Rothesay in Scotland, appeared to coordinate matching outfits for their sporty day, with William rocking a solid green coat with black pants.
For her part, Kate opted for a plaid green quilted coat over black pants and a black turtleneck.
The royal couple both notably sported a red poppy on the front of their jackets, symbolizing the United Kingdom's Remembrance Day, which will take place on Nov. 11.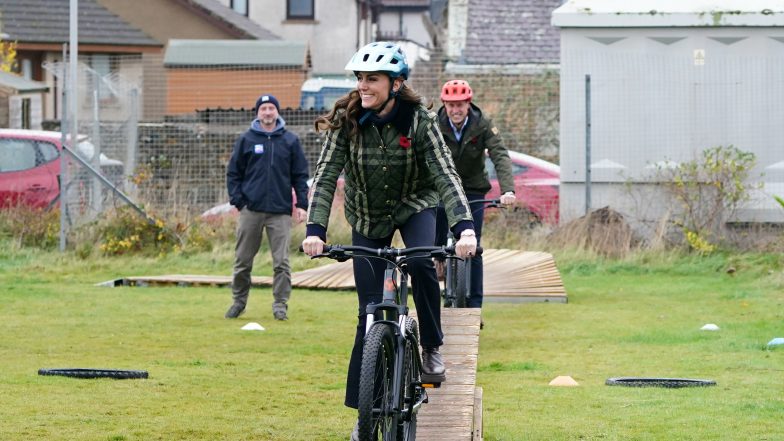 Kate Middleton & Prince William Show Off Their Bike Riding Skills In Sporty Charity Outing
View Gallery