Dogstar is back! Keanu Reeves, Bret Domrose and Robert Mailhouse are reuniting two decades after their band's last album.
In a new interview with Access Hollywood, the guys reflected on their journey as an "indie pop rock folk band" and how excited they are to have picked up right where they left off.
Vocalist Bret explained that the trio had "always kept in touch over the years" but were inspired to begin working on new music more recently and that the upcoming album feels like their most authentic work yet.
"It's a very honest record and we're very proud of it and we hope that that connects with some people and we hope that they appreciate that we poured ourselves into it, and we feel great about it. We wanna share it and can't wait to share it," the singer said.
"It's a real expression of who we are, this one, you know? This one's us. … This one really works, I feel like it's really who we are and there's no excuses on this one. This is just, I'm so proud of this record," drummer Rob added.
The group has an impressive roster, having once opened for Bon Jovi at Los Angeles' The Forum and even David Bowie back in 1995, a moment which guitarist Keanu recalled with a smile.
"You wanna talk about nerves, but he was really sweet to us and a cool cat," he said of the now-late icon. "It was really like, 'How did this happen? What are we doing here? But this is really cool, so let's just have a good time and do our best.' It was fun."
Dogstar played to a sold-out crowd at LA's famed The Roxy earlier this week and is set to launch a 25-city headlining tour in August in support of their new LP "Somewhere Between the Power Lines and Palm Trees," but the guys agreed that when it comes to sharing the stage with today's industry powerhouses they'd be honored.
"We'll open for either of them," Keanu smiled, when asked about joining Beyoncé's Renaissance tour or Taylor Swift's Eras tour.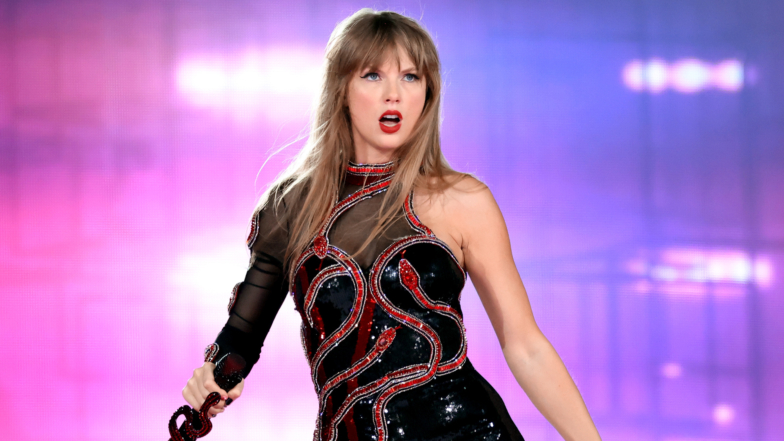 Taylor Swift Kicks Off 'The Eras Tour': See Inside Opening Night!
View Gallery
"We'll open for the opener," Bret teased, adding, "Those are two unbelievable artists at a level that you can't even get your head around. To even meet people like that is one thing but to be able to share a room or a stage would be like, OK, like a David Bowie moment. Like, 'OK, we just had a milestone here.' That would be pretty amazing."
Robert even offered to lend his skills in a more behind-the-scenes capacity for megastar Taylor.
"I can drum tech for Taylor Swift," he said.
"Somewhere Between the Power Lines and Palm Trees" drops Oct. 6 and its first single "Everything Turns Around" is out now.
Copyright © 2023 by NBC Universal, Inc. All Rights Reserved.
This material may not be republished, broadcast, rewritten or redistributed.