"Riverdale's" "Carrie: The Musical" is finally here!
The stars of Riverdale High – Cheryl, Betty, Veronica and Archie – under the direction of Kevin Keller, will take on the musical "Carrie," based on Stephen King's novel. And in '70s flares no less.
"I thought it was super fun just to shoot," Lili Reinhart told Access at PaleyFest last month. "It was very challenging. We had only like eight days to shoot it — same as every episode — so we were recording our songs and simultaneously filming and learning dances, which was my worst nightmare."
PHOTOS: 'Riverdale': Scenes From 'Carrie: The Musical'
As for why the "learning dances" part was Lili's worst nightmare, she suggested that it just isn't her strong suit.
"Because I can't dance. I'm terrible at it," she said.
As viewers will see in the episode, that's not the case. Lili's Betty is grooving alongside the "Carrie" cast in some memorable numbers in Wednesday's new episode, including the V to her B – Camila Mendes' Veronica.
"It is such a fun episode," Camila told us at the same event.
"There's a big musical number for Veronica, which I loved shooting," she continued. "It's just fun seeing everybody bring out talents of theirs which nobody knew existed."
KJ Apa's Archie is also part of the musical, and a standout, Lili said.
"KJ should be in musical theater. He really came to life in that, and it's great to see, and I can't wait for everyone to see that," she said. "It was a really fun experience and it was kind of like a nice little break from, you know, the murders, the drama. It was fun to kind of escape that for a second and go into like a parallel universe."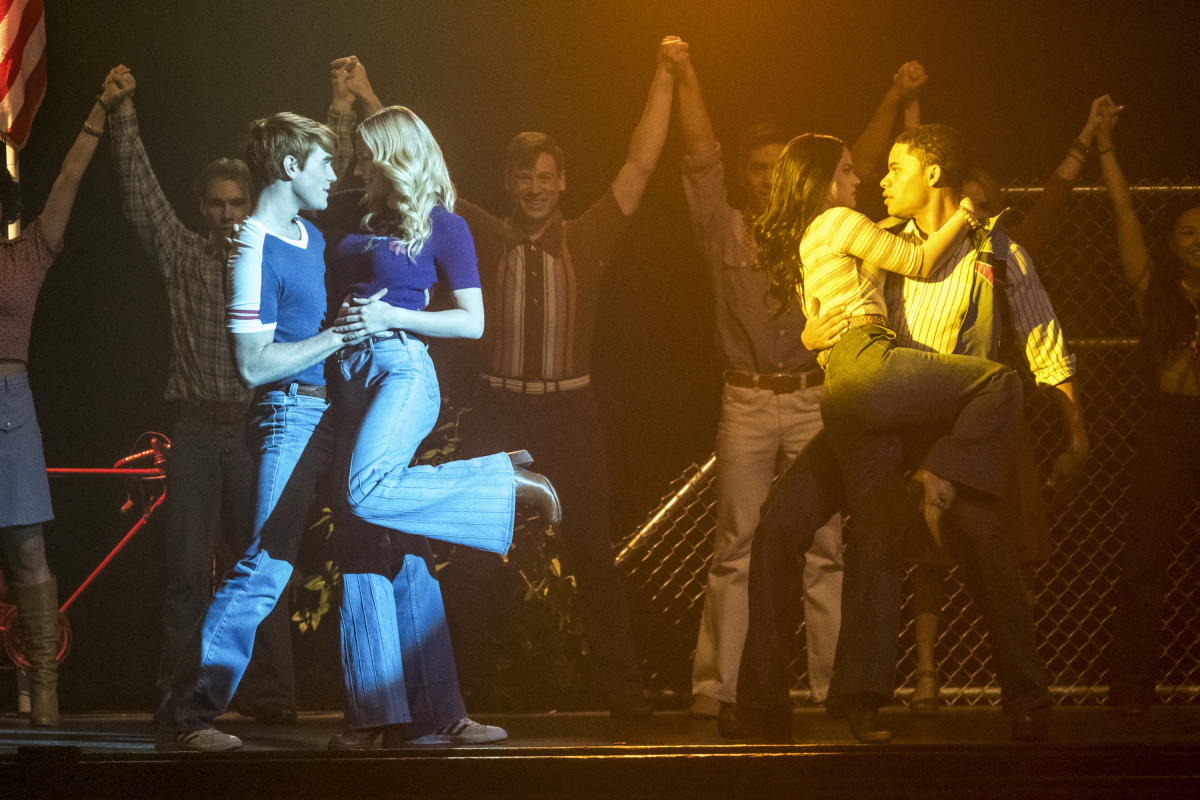 Madelaine's Cheryl Blossom demanded the lead in the musical – the role of Carrie – from director Kevin Keller at the end of last week's episode.
And, like her co-stars, she agrees it's a different type of episode for The CW drama.
"I'd say it's my favorite episode we've ever shot," Madelaine told Access. "It's just different for 'Riverdale.' It's very light and very fun and … you know [how back in] Season 1, how it was always with at tone of happiness underneath in a weird way – like it still had that comedy? This episode is very comedic – dark, dark, dark comedy – but this is a very fun, comedic episode. It's different than anything we've ever shot before and we all got to be together. I haven't been with the gang really during this season at all, and this was our time to do that."
"Riverdale's" "Carrie: The Musical" episode airs Tuesday night at 8/7c on The CW.
Copyright © 2019 by NBC Universal, Inc. All Rights Reserved.
This material may not be republished, broadcast, rewritten or redistributed.