"Married At First Sight" had a lot of weddings this week, but one ended with a dramatic plot twist.
Things started off with Emily and Brennan, who said "I do" in the premiere episode, and Brennan seems to be super excited.
"The vibes between me and my wife are amazing. I like that she's super bubbly. I like that' she's so confident. Feels amazing to finally be married," he gushed.
Becca and Austin are getting ready to get married, and they both tried on looks for their big day. Becca, who has been open about her health issues, ended up choosing a modern renaissance gown that she thinks looks great, and makes her feel comfortable.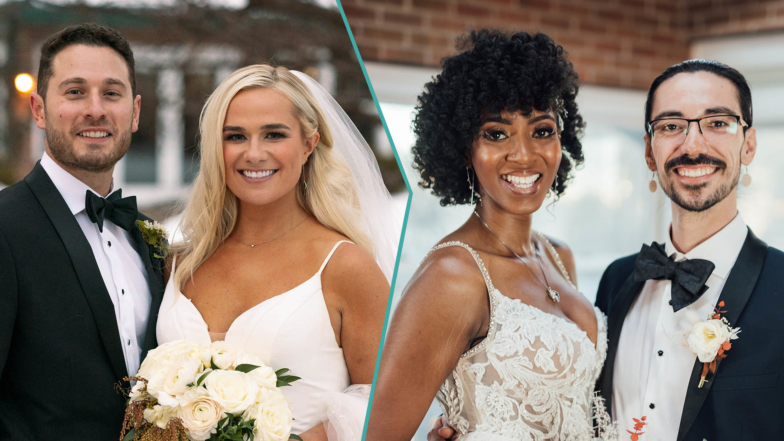 'Married At First Sight': Meet All The Couples
View Gallery
While getting glammed on her big day, Becca admitted that she's nervous to open up to her future husband about her health issues.
"I'm nervous. I just like I want to give him the space to be able to, like, digest it, to process without feeling like he got the short end of the stick in any way. I want him to know that, like, I still have a sense of humor through it. You know," she said.
When they met each other at the altar, Austin teared up and they both seemed to have major chemistry. The pair tied the knot and are officially a married couple!
Lauren and Orion are excited to meet each other. While getting ready, they both sent each other gifts, with Lauren giving him a flask with rum she bottled and Orion gifting her some turquoise. His thoughtful gift really put Lauren at ease.
"I feel like he's spiritual. Like, and that already means a lot for me, that he talked about his ancestors. Because, you know, I talk about my ancestors and my spirit guides all the time. Like, we're connected. We're already spiritually, mentally connected, somehow. All right, I'm ready to get married. Now, if there's anything that made me feel, like, prepared and ready for this, it was this, like, I'm about to cry," she said.
The pair exchanged some heartfelt vows, and were officially married, and their friends and family seemed so excited, cheering as they kissed for the first time.
They both appear to be happy with how things ended up for them, and they bonded while getting to know each other after saying, "I do."
Fans have been wondering what happens with Michael on his wedding day. In the first episode it looks like he gets left at the altar, and in this episode, we saw the moment when his unnamed bride-to-be got cold feet.
After the shocking moment, he handled it with grace and shared how disappointed he was about how everything went down.
"More than just getting married today, right? You kind of put yourself in the mindset of, like, what is the journey going to look like? And, you know, sure, there's a little bit of hubris in this, but I would have hoped if, you know, she had doubts coming into it that seeing me at the you know, standing up there would have helped quelled some of that. Yeah, clearly that wasn't the case, which, you know, that's all right. But there's probably there's, you know, sadness. That's a bit humbling," he shared.
Michael got emotional and called his experience a "failure," but he is still open for love in the future.
"It's a failure, but it hasn't changed who I am. What's next for me is just going through what I need to go through to continue to process this. I still feel the same way in terms of my readiness for marriage, but I might have to make peace with the possibility that marriage might not be in the cards for me," he said.
Later, he read a note that his runaway bride left for him, where she shared how sorry she was as well as expressing gratitude for how he handled the situation.
"Dear Michael, I can't express how sorry I am to have not given this marriage the chance you deserve. I hope that one day you'll be able to fill the adventure book up with incredible memories of you and your future wife. You couldn't have been more gracious and empathetic towards me, and it shows what a great man you really are. You are a true gentleman, a kind soul. I wish you the best." he read.
Clare and Cameron were deciding on what to wear on their wedding day, and Clare had a moment of self-reflection when she said yes to the dress.
The pair are getting set to get married, but they certainly seem to have some major pre-wedding nerves going on and both were speaking about the jitters they were feeling about marrying a stranger.
"Life is too short. And I just want to be able to at the end of this, to have somebody who I can see spending the rest of my life with. But there's so many things that may not go the way that I'm thinking in my head. So just like the unknown is the most scary thing to me," Clare said.
It looks like fans won't get to see if they end up actually getting married until next week's episode, so you'll have to tune in then to see how everything unfolds!
"Married At First Sight" is "Married At First Sight"- produced by Kinetic Content – airs Wednesdays at 8pm PT/ET on Lifetime.
— Stephanie Swaim