This week on "Married At First Sight," we got to see the couples have their wedding receptions.
First up, Cameron and Clare met each other for the first time on their wedding day, and they seemed to be happy with how things worked out. The pair read their vows and officially are a married couple!
After they tied the knot, Clare, who is a quadruplet, opened up to her husband about her brother who passed away, saying she thinks he led her to him.
"So he passed away. And so I, I need to make, and I need to make him a part of this special day. You know, and I feel like he orchestrated this in a way. You know what I mean? I do feel that. I feel like I've had signs. I've seen him in like dreams. It just has felt so like I'm not a person who takes risks at all. I would have never done this if I didn't feel like I was being led to do it," she said.
Cameron has definitely made a great first impression on Clare and done a lot to put her nerves at ease.
"Cameron is making me feel so comfortable. I don't know if he knew that he was dealing with a shorty, but the experts could not have made a better match, I truly don't think. Like he is funny, he's smart, he's outgoing. But yeah, he's my husband. And like, I feel like we are going to be in it for the long haul," she gushed.
And he equally can't stop gushing about how optimistic he is that he may have found his perfect match.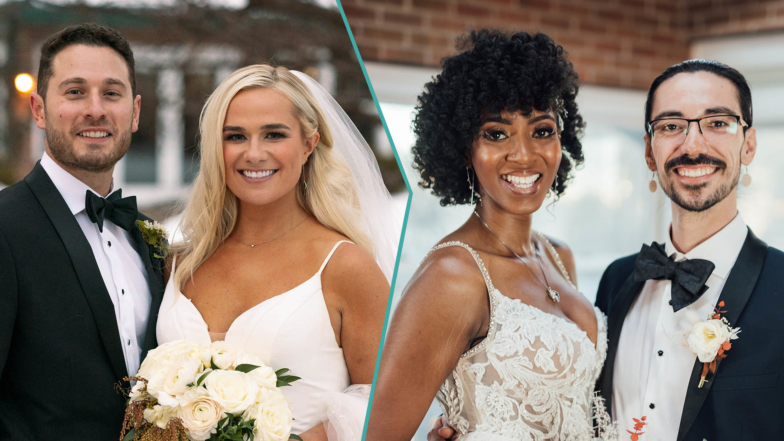 'Married At First Sight': Meet All The Couples
View Gallery
"I can't wait to travel with my wife. I can't wait to buy our first car together. You know, maybe get a dog together to experience a shared life. And I think from what I can tell, Clare, is everything that I wanted and want in a wife," he said.
Lauren and Orion are getting to know each other more during their wedding reception. the pair had their first dance as a married couple, and Lauren reflected on it.
"You're going to think I'm lying, but I'm not. I've asked God for a person I can like slow dance in the kitchen with while we cook. And so, like, having that slow dance together made me realize it's probably going to continue to be awkward slow dances in the kitchen. But I'm glad we had that moment because I kind of asked for," she said.
She revealed more about her family to Orion, including that her mom sadly has passed away.
"Honestly, there's no one in this room that I was, I would say that I've ever been closer to than my mom and I talked to her about everything. Like she's this type of person. I could be like, I could tell her I had a one night stand and cocaine, and not that I would do that, but she would just be like, 'Oh, how was it?' And then she'd come back and be like, 'Okay, so let's talk about this.' But she was just like this non-judgmental parent. And my dad is very opposite," she said.
Things got a little intense when Orion was talking with Lauren's dad, who revealed he had some concerns after Orion said he was potentially interested in splitting his time between Colorado and the East Coast.
"Because of marriage you have to make decisions based upon both for your likes and dislikes. And you just said that you are willing to spend time between here and the East Coast. What I didn't hear you say is that you're willing to also include Lauren in that decision process. What I didn't hear is, Hey, I have a wife now, so the decisions that I make have to be always included with my second person at hand. My concern is, are you chasing opportunities someplace else and will you consider what you say you want to do has to always be in consideration with your wife," he said.
Emily and Brennan had a fun time at their wedding reception, and Brennan is super into her fun loving personality, even when she admitted to getting a little wild at her bachelorette party!
"You know, I can see that she's the life of the party, and I'm a little more reserved. But I appreciate that Emily is going to say whatever's on her mind, you know, honesty. I just think it's a major building block to a successful relationship. We'll see. Who knows? But for right now, it's really nice," he said.
But his friends did grill her about never having a serious relationship prior to tying the knot with Brennan.
Becca and Austin were vibing at their wedding reception and are learning that have a ton in common.
He made a great first impression on her, she opened up about how she was hesitant about being on the show but he really seems to be genuine.
"I think I've been really nervous about this process that, like, whoever was going to do this, like, wouldn't be doing it for the right reasons or, like, wouldn't be as, like, genuine or honest or like trying to get the Instagram followers or like, whatever it may be and like, instantly, like when I saw him get emotional, I was like, No. Like, he's he's in this for marriage, Like, for love. He's not in this for anything else. And like, that was my first impression is that he's very authentic. He's cute, too," she said.
And as they left their wedding together hand-in-hand, she shared about how happy she is about Austin.
"Austin seems so kind and genuine and like, that was my biggest worry. So my hopes for the future are that we just continue to get along. I'm sure that it won't always be this great, but it feels exciting. It feels like this is the first day of many, many good days," she gushed.
But marriage isn't all sunshine and rainbows, and the super tease at the end of the episode shows that this season, there appears to be some major drama coming with some of the couples as they settle into married life – and only time will tell if they end up staying married or getting divorced!
"Married At First Sight"- produced by Kinetic Content – airs Wednesdays at 8pm PT/ET on Lifetime.
— Stephanie Swaim