Patrick J. Adams has regret for taking his "Suits" nostalgia public.
The actor, 42, apologized for reminiscing on the hit legal drama in now-deleted Instagram posts, after some critics suggested his tributes conflicted with the ongoing SAG-AFTRA strike.
"The last couple of days I foolishly and thoughtlessly let a trip down 'Suits' memory lane distract me from the very real and ongoing fight everyone in @sagaftra continues to wage in its effort to win our membership realistic 21st Century compensation and protections," he wrote on his Instagram story on Thursday.
Adam Sandler, Ben Stiller, Anna Kendrick & More Celebrities Join Picket Lines In SAG-AFTRA Strike
View Gallery
Patrick went on to share gratitude for the reminder and guidance and reiterated his dedication to stand in solidarity with his fellow actors.
"It was an embarrassing oversight for which I'm incredibly sorry," he added. "So grateful to those who gently and swiftly course corrected me here. And I look forward to continuing the fight in the days and weeks ahead."
Earlier this week, Patrick gave fans behind-the-scenes peeks his time on "Suits" in throwback photos from set as the show continues its resurgent popularity.
Patrick reflected on his time with co-star Meghan Markle and their fellow actors, showing the now-mom of two posing with castmate Sarah Rafferty and looking thoughtful in a close-up profile shot.
"I miss my friends," he wrote in one caption.
Meghan starred on "Suits" for seven seasons opposite Patrick as his character's love interest, paralegal Rachel Zane. The pair departed the USA series in 2017 shortly before Meghan and husband Prince Harry announced their engagement.
The pair went on to tie the knot the following year at St. George's Chapel in London's Windsor Castle, where much of Meghan's "Suits" fam traveled to celebrate the couple at their royal wedding.
Patrick and wife Troian Bellisario were among those on hand, as well as Sarah, Rick Hoffman, Abigail Spencer, Gina Torres, Gabriel Macht and Rick Hoffman.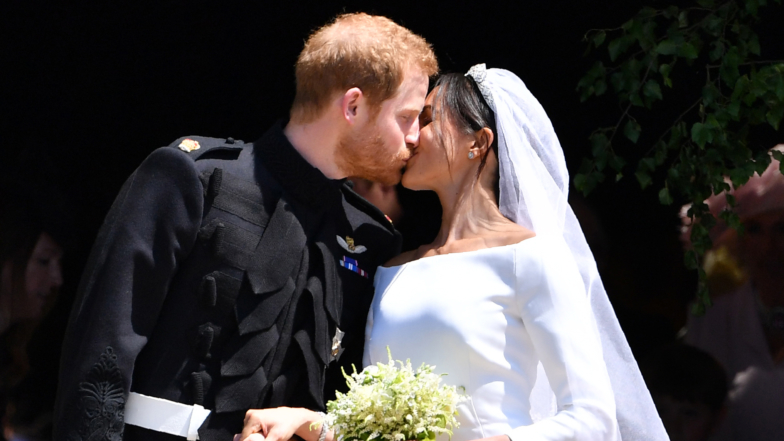 A Look Back At Meghan Markle & Prince Harry's Royal Wedding
View Gallery
"Suits" wrapped its ninth and final season in 2019 but the show has gained new traction in recent months after record-breaking success on streaming platforms Netflix and Peacock, and many fans are hoping for potential new episodes.
Though neither Patrick nor his co-stars have indicated that there's more "Suits" on the way, it seems they're enjoying its blockbuster second life!
The actor has even given his Instagram page a cheeky update amid the renewed interest in "Suits." The bio now reads, "The guy from that show you're watching on that app because that girl married that prince."
Copyright © 2023 by NBC Universal, Inc. All Rights Reserved.
This material may not be republished, broadcast, rewritten or redistributed.