Sophie Turner and Joe Jonas' youngest daughter's name has been revealed for the first time.
In new court documents related to their heated divorce battle, both of their kids monikers were listed and their 1-year-old's name is Delphine Jonas.
On Tuesday, paperwork was filed requesting an emergency motion hearing.
"I am writing to you because we understand that Willa and Delphine Jonas are currently the subject of a proceeding relating to custody before your court," it said in part.
The duo had not shared the name of their little one since her birth in July 2022 until now.
Joe Jonas & Sophie Turner: Their Cutest Instagram Pics!
View Gallery
A special hearing on the case has been set for Sept. 27 and comes amid their increasingly contentious split.
In federal court documents filed on Sept. 21 and obtained by Access Hollywood, the "Game of Thrones" star, 27, sued the Jonas Brothers musician, 34, to return their children to her home country of England from New York City.
The papers claim that "wrongful retention" of their two daughters began on or about Sept. 20, one day before the actress filed her petition. The docs note that both girls are dual citizens of the U.K. and the U.S.
According to the petition, Sophie and Joe lived in multiple locations during their relationship and they allegedly agreed to settle permanently in England with their girls. They began searching for their "forever home" overseas in late 2022 and were "very excited" for the move, the docs claim.
Joe filed for divorce in Florida in early September after four years of marriage, a move which Sophie claims in her petition came as a surprise. According to the docs, the pair had an argument in mid-August and Sophie didn't discover the divorce proceedings were official until the news went public on Sept. 5.
In a statement to Access Hollywood on Sept. 21, Joe denied the claims made in Sophie's suit, alleging that she was indeed aware he intended to file for divorce and claiming that the Florida court order prevents either of them from relocating the children at this time.
The actress had been working in England on her upcoming TV series "Joan" in recent weeks while Joe remained in the States with the girls during his tour with brothers Nick Jonas and Kevin Jonas. Sophie's petition claims she had "hesitation" about the arrangement.
Inside Joe Jonas' Epic James Bond-Themed 30th Birthday Party!
View Gallery
In her lawsuit, Sophie's legal team accuses Joe of refusing to return their daughters' passports. The petition claims that the pair met after their split to discuss custody arrangements, when Joe allegedly revealed he had changed his mind about having the kids live in England full-time.
According to Joe's rep, the singer felt that he and Sophie had reached an understanding about their co-parenting approach during their post-split meeting. The statement claims that less than 24 hours later Sophie expressed her desire for the children to be taken to England permanently, which Joe's team claims is a violation of the Florida court order if he complies. The statement added that the kids have spent the majority of their lives in the States and Joe is "okay" with them being raised int both the U.S. and the U.K.
Sophie and Joe have only issued one public statement on their breakup, saying in respective Instagram posts on Sept. 6 that they had "mutually decided to amicably end" their marriage. They also referenced the "speculative narratives" surrounding the news and insisted the choice was a "united" one.
WATCH: Joe Jonas & Sophie Turner's Relationship Timeline: A Look Back At Their Romance & Shocking Divorce
In his divorce filing, Joe called the marriage "irretrievably broken" and indicated plans for joint custody of the girls.
On Sept. 25, the couple agreed to keep 3-year-old Willa and Delphine in New York City for the time being.
"The parties have agreed to the entry of the attached proposed Interim Consent Order, without prejudice to either party's claims and defenses, prohibiting the removal of the parties' children from the jurisdictions of the United States District Courts for the Southern & Eastern Districts of New York pending further order of this Court," court documents obtained by Access said.
After a two-year engagement, he and Sophie tied the knot in 2019 in double ceremonies – one in Las Vegas after that year's Billboard Music Awards and then in a more formal ceremony in France.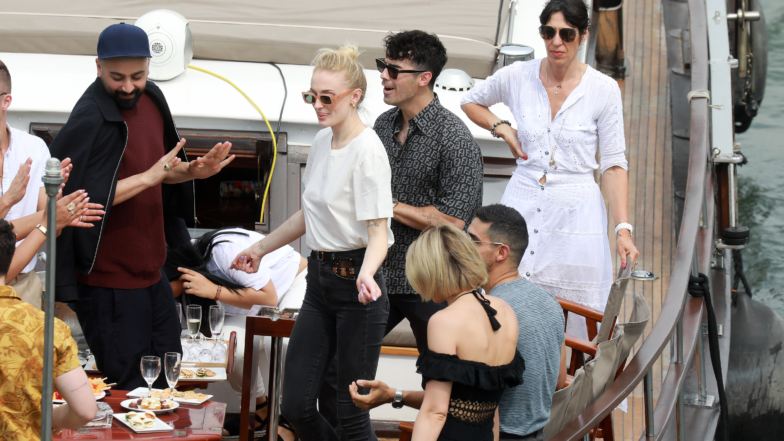 Sophie Turner And Joe Jonas Wedding Pics!
View Gallery
Copyright © 2023 by NBC Universal, Inc. All Rights Reserved.
This material may not be republished, broadcast, rewritten or redistributed.