Jada Pinkett Smith is sharing shocking news about her marriage to Will Smith.
On Wednesday, the former "Red Table Talk" host sat down with "Today's" Hoda Kotb for a bombshell interview about her new memoir, "Worthy," and revealed stunning new secrets from her personal life.
During the candid conversation, Jada admitted she and her longtime husband have been separated since 2016 and explained why they never shared this revelation publicly before.
"I think just not being ready yet. Still trying to figure out between the two of us how to be in partnership, right? And in regards to how do we present that to people, you know? And we hadn't figured that out," she said.
Will Smith Brings Wife Jada Pinkett Smith and Kids To 'Emancipation' Premiere
View Gallery
The 52-year-old went on to reflect on why their relationship "fractured," saying it was caused by "a lot of things."
"I think by the time we got to 2016 we were just exhausted with trying," she shared. "I think we were both kind of just still stuck in our fantasy of what we thought the other person should be."
The pair tied the knot in 1997 and despite living different lives for the past seven years, they have not legally filed for divorce and reportedly do not plan to.
Jada told Hoda she considered filing in the past but could not go through with it.
" I made a promise that there will never be a reason for us to get a divorce. We will work through whatever. And I just haven't been able to break that promise," she told the host.
"But you still live separately?" Hoda asked.
"We live separately," Jada confirmed.
Will Smith & Jada Pinkett Smith: Sweet Couple Photos From The Last 20 Years
View Gallery
The pair share two children together, Jaden, 25, and Willow, 22, and in the past have dealt with a lot of scrutiny.
In August 2013, Jada denied rumors that the former couple were in an open marriage on Facebook.
"Here is how I will change my statement…Will and I BOTH can do WHATEVER we want, because we TRUST each other to do so. This does NOT mean we have an open relationship…this means we have a GROWN one," she wrote at the time.
Two years later, Will took to Facebook to address speculation that they were heading for divorce.
"Under normal circumstances, I don't usually respond to foolishness. (Because it's contagious) But, so many people have extended me their 'deepest condolences' that I figured – 'What the hell… I can be foolish,' too! So, in the interest of redundant, repetitious, over & over-again-ness… Jada and I are…NOT GETTING A DIVORCE!!!!!!!!!!!!! : -) I promise you all – if I ever decide to divorce my Queen – I SWEAR I'll tell you myself! #Dumb People Should Have to Wear Scarlet D's," he proclaimed.
In June 2020 August Alsina sat down with "The Breakfast Club's" Angela Yee and claimed he had a relationship with Jada.
The next month, the "Girls Trip" star addressed the comments on "Red Table Talk" and calls their connection an "entanglement," claiming she was separated from Will at the time of her relationship with the now 31-year-old.
Jada is reportedly reflects on everything in her new book, which is set to be released on Oct. 17, including the now infamous moment at the 2022 Oscars when Will slapped Chris Rock on stage.
"When Chris was still standing afterward, I believed my observation to be true: Aha, this IS a skit," she writes in the book according to an expert from People. "It's not until Will yells from his seat back up at Chris to "keep my wife's name out your f—in' mouth," and then repeats it, that I perceive the gravity of the situation, and that, no, it had not been a skit. Even so, I am unclear on the reason why Will is so upset. We had been living separate lives and were there as family, not as husband and wife. But when I hear Will yell "wife" in the chaos of the moment, an internal shift of Oh s— . . . I am his wife! happens instantly."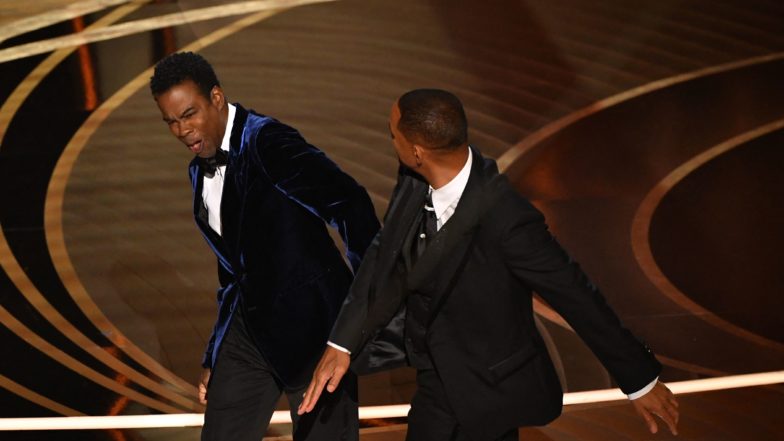 Will Smith Smacks Chris Rock At Oscars: Every Pic
View Gallery
Copyright © 2023 by NBC Universal, Inc. All Rights Reserved.
This material may not be republished, broadcast, rewritten or redistributed.