Lisa Marie Presley's ex-husband Nicolas Cage is remembering her and sharing his heartbreak following her death.
"This is devastating news. Lisa had the greatest laugh of anyone I ever met. She lit up every room, and I am heartbroken. I find some solace believing she is reunited with her son Benjamin," the 59-year-old actor said in a statement to The Hollywood Reporter.
The singer only child of Elvis Presley passed away at 54-years-old on Jan. 12th after suffering from a full cardiac arrest earlier on Thursday.
A rep for her mother, Priscilla Presley confirmed in a statement, "Priscilla Presley and the Presley family are shocked and devastated by the tragic death of their beloved Lisa Marie. They are profoundly grateful for the support, love and prayers of everyone, and ask for privacy during this very difficult time."
Priscilla also addressed her daughter's death in a statement to multiple outlets. It reads, "It is with a heavy heart that I must share the devastating news that my beautiful daughter Lisa Marie has left us. She was the most passionate, strong and loving woman I have ever known."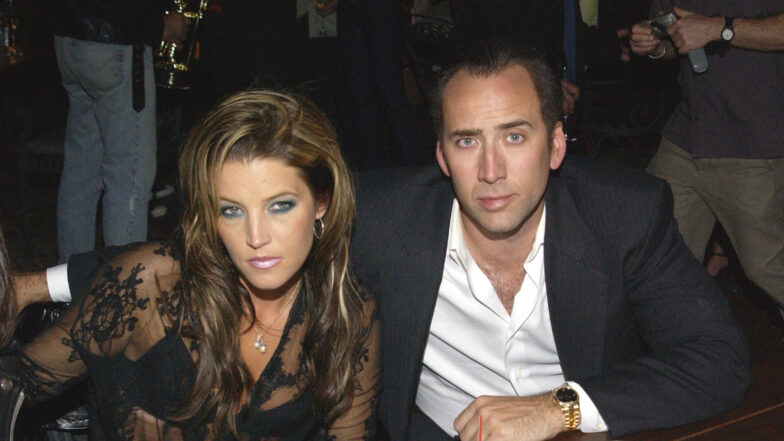 Lisa Marie Presley & Nicolas Cage's Romance In Photos
View Gallery
The had a bit of a tricky time sticking together. They famously shared a tumultuous on-again, off-again romance, which included Lisa Marie dropping her $65,000 six-carat yellow diamond engagement ring in the ocean off their yacht after an argument. The duo broke up several times before tying the knot in Hawaii in 2002 with their children from previous marriages by their side. But the marriage didn't last long.
After less than four months of marital bliss Cage filed for divorce.
"I'm sad about this, but we shouldn't have been married in the first place. It was a big mistake," Presley said in a statement after the news made headlines. While Cage was a bit cagey at the time of their split, he later told Barbara Walters in a 2016 interview that it just wasn't meant to be.
"Often times when you have two people who are very strong and their own personalities and rather intense, sometimes you can have a hard time meshing. It's sad and I miss her every day," he shared in the interview, "and sometimes I wish we couldn't have rushed the marriage and sometimes I regret rushing the divorce, but it just seemed like it wasn't going to change."
Lisa Marie later told Access Hollywood that they were both "good with words" but the relationship had its challenges.
"Yeah, we didn't quite get there. We didn't actually you know have these, I was hearing knocked down dragged out, there was no physical, fighting or anything like that, we were very dramatic that's all, we never quite got there but we thought we might if we kept going the way we were," Lisa Marie said.
She also added that their relationship was a crapshoot, telling Access Hollywood of their relationship, "That's kind of the nature of how we both are individually anyway, so if there's two forces like that together, it's…a tornado."
In an interview with Access Hollywood, Lisa Marie shared that she met the actor at "Johnny Ramone's birthday party" in 2000.
In fact, while he didn't see her as Elvis' daughter like so many others did, he did find comfort in the fact that they both grew up with very famous families. He being the nephew of famed director Frances Ford Coppola. He lamented during his interview with Barbara that trying to work in Hollywood with the famous last name trailing him didn't make it easy and he and Lisa Marie bonded over their less-than-normal upbringings in artistic families.
Lisa Marie Presley's Life In Photos
View Gallery
Copyright © 2023 by NBC Universal, Inc. All Rights Reserved.
This material may not be republished, broadcast, rewritten or redistributed.