Penelope Disick is weighing in on her dad, Scott Disick's, dating history!
Scott's love life was a main topic of discussion in the latest episode of "The Kardashians" after Khloé Kardashian and Kris Jenner decided to play matchmaker for the 40-year-old.
But before they could play cupid, they asked his 11-year-old daughter what qualities his new partner should have.
"Older," she said while looking at her dad. "He was saying late 20's but I said young 30's is fine," Khloé added.
"No, 20 [year old's]. You're 40!" Penelope hilariously exclaimed while looking at Scott. "You're not going to date someone that's 19."
But Penelope wasn't done roasting Scott just yet! She took another jab at her dad while listing out other qualities his future girlfriend should have.
"Good personality. She can be pretty," she added. "Someone who goes to the gym, because you need to go to the gym also."
Now that fans know what Penelope wants for her dad, what is Scott looking for?
The Talentless founder admitted he wants someone like Khloé.
"She's funny, she's kind, she's sweet, she's cute," he said. "She's got all the characteristics I want, that's what I'm saying. Obviously, I would never look at Khloé sexually even though I make jokes like that. I just need somebody who doesn't give up on somebody. I've been through a lot of different things. I definitely know that I'm not easy and I'm not perfect."
So, did Scott find the one?
The 40-year-old did go on a date with one woman Kris and Khloé set him up with named Celine.
"She was optimistic and happy and positive about so many things in life that I really found a lot of good from her," he said. "The only thing I found like, not bad or good, but she was like I've never really met anybody that I've cared enough to be with, so I've never really dated long term."
Although Scott might not see a romantic future with her, he said he wants to keep her in his life because he loves her positive energy!
"I know this is like a blind date, I don't know how that works to see each other after, but I feel like you should be like my life coach," he said. "I want to learn to be this happy."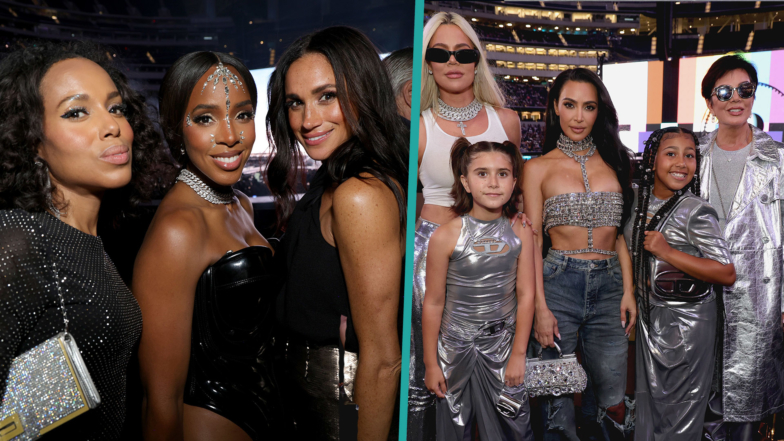 Meghan Markle, Kerry Washington, Kim Kardashian & More Stars at Beyoncé's Renaissance Tour in L.A.
View Gallery
Scott isn't the only one talking about his love life in the latest episode of "The Kardashians," Khloé and Kim are too!
In a confessional, the Good American co-founder admitted she isn't opposed to her sister's playing matchmaker.
"When I'm ready to date I don't think I would be mad if my sisters did this for me, because they would probably be better at picking than maybe I would," she said. "I don't know, I don't trust my own picking, clearly."
Kim also updated fans on her dating life, admitting she needs someone who is closer in age to her.
"I have age limits guys," she said. "I need just a little more age-appropriate. I need like 40's."
Although the SKIMS founder wants someone closer to her age, she isn't looking for a boyfriend yet.
"I am genuinely just okay being by myself for a minute and the right situation will come my way," she said.
Although Kim isn't ready for anything new, she did bring up her ex-husband Kanye West in the episode, revealing his reaction when he learned she hired a male nanny.
"I do think that my household and even in our family it's like really female-dominated," she said. "I recently hired a manny [male nanny]. I really wanted a male around that was going to be picking them up and taking them to sports. I was scared out of my mind to tell their dad that."
But turns out, Ye welcomed the idea.
"When he was dropping off the kids, Kanye introduced himself," she said. "Played two on two with Saint and him…I was like 'Oh my God. Ok. That's great.'"
A new episode of "The Kardashians" drops on Hulu every Thursday at 12 a.m. EST.