Tom Brady is retiring again.
On Wednesday, the Tampa Bay Buccaneers quarterback announced he will be stepping away from football.
"I'll get to the point right away. I'm retiring, for good," he said in a selfie video posted to Instagram.
"I love my family. I love my teammates. I love my friends. I love my coaches. I love football. I love you all. I am truly grateful on this day. Thank you," he captioned the clip.
The news comes exactly one year to the day after he shared he would be retiring the first time, before changing his mind and returning to Tampa for the 2022 season.
"I know the process was a pretty big deal last time so when I woke up this morning I figured I'd just press record and let you guys know first. So, I won't be long winded, you only get one super emotional retirement essay and I used mine up last year, so, I really thank you guys so much to every single one of you for supporting me. My family, my friends, my teammates, my competitors, I could go on forever there's too many. Thank you guys for allowing me to live my absolute dream, I wouldn't change a thing. Love you all," he concluded the video.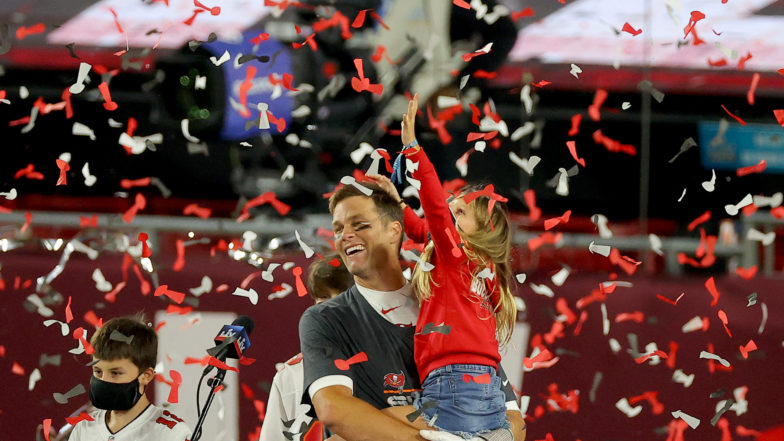 Tom Brady Celebrates Super Bowl LV Win With His Kids
View Gallery
Tom has had a lot of changes in the last year. In October, he and Gisele Bündchen announced their split after months of speculation. In their respective statements, they each emphasized their commitment to co-parenting their two children together.
He also shares 15-year-old son Jack with ex-girlfriend Bridget Moynahan.
In February 2022, the veteran football player originally said his NFL career was ending with a heartfelt statement.
"I have always believed the sport of football is an "all-in" proposition – if a 100% competitive commitment isn't there, you won't succeed and success is what I love so much about our game, the 43-year-old shared on Instagram. "There is a physical, mental, and emotional challenge EVERY single day that has allowed me to maximize my highest potential. And I have tried my very best these past 22 years. There are no shortcuts to success on the field or in life."
He continued, "This is difficult for me to write, but here it goes: I am not going to make that competitive commitment anymore. I have loved my NFL career, and now it is time to focus my time and energy on other things that require my attention."
Adding, "My playing career has been such a thrilling ride, and far beyond my imagination, and full of ups and downs. … I will remember and cherish these memories and re-visit them often. I feel like the luckiest person in the world."
Tom Brady & Gisele Bündchen's Family Life In Photos
View Gallery
Copyright © 2023 by NBC Universal, Inc. All Rights Reserved.
This material may not be republished, broadcast, rewritten or redistributed.