It looks like Travis Kelce is going to have to wait another couple of days to see Taylor Swift onstage again!
The Kansas City Chiefs star reportedly arrived in Buenos Aires on Friday ahead of his music icon girlfriend's scheduled Eras Tour show in the Argentine capital. Video obtained by multiple outlets appeared to show Travis disembarking a jet just hours before Taylor was supposed to kick off her second Eras concert in South America.
However, Taylor ended up postponing her set as lightning reportedly threatened the area just miles from the venue.
Taylor Swift & Travis Kelce Spotted Holding Hands Again: See The Pics!
View Gallery
"I love a rain show but I'm never going to endanger my fans or my fellow performers and crew," she wrote on her Instagram story. "We've rescheduled tonight's Buenos Aires show for Sunday due to the weather being so truly chaotic it would be unsafe to try and put on this concert."
Though the news wasn't exactly welcome, Taylor did find a bright spot.
"Good news is I get to stay in Argentina longer!!!" she added.
And maybe Travis does, too!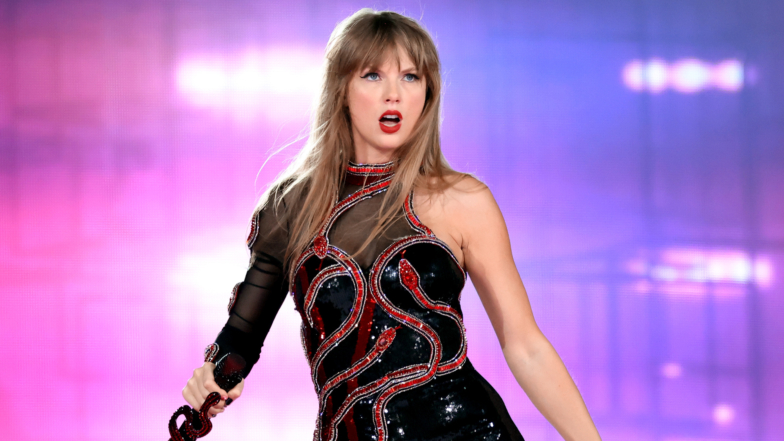 Taylor Swift Kicks Off 'The Eras Tour': See Inside Opening Night!
View Gallery
Fans went wild during Thursday's Buenos Aires concert when the songstress surprised her audience with an acoustic version of "Labyrinth," which features the lyrics "I'm falling in love."
Social media widely speculated the song choice to be a not-so-subtle reference to Travis, who had already teased he was going to help Taylor kick off the international leg of her blockbuster tour.
During a recent episode of his and brother Jason Kelce's "New Heights" podcast, the two-time Super Bowl champ teased that he was headed somewhere "sunny" and "closer to the equator" for his team's NFL bye week.
Copyright © 2023 by NBC Universal, Inc. All Rights Reserved.
This material may not be republished, broadcast, rewritten or redistributed.