Behati Prinsloo is giving fans a glimpse of her and Adam Levine's baby boy.
Over the weekend, the former Victoria's Secret model shared a close-up photo of her 11-month-old son's face as he held onto a dandelion on Instagram. In the cute snap, the little one rocks a yellow shirt as she stares off to the side.
Behati also gave glimpses of her and Adam's two daughters, Dusty Rose, 7, and Gio Grace, 5, in the post, sharing a photo of them walking in a pumpkin patch.
The latest photos of her family come weeks after the model confirmed the sex of her and Adam's third baby.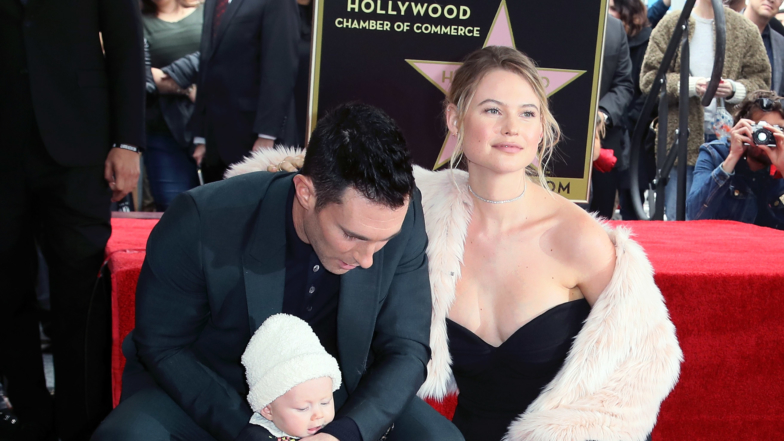 Adam Levine & Behati Prinsloo Bring Daughter Dusty Rose To His Walk Of Fame Ceremony
View Gallery
The 35-year-old opened up about all of her children's birth stories on a Nov. 3 appearance on "The Mother Daze" podcast with Sarah Wright Olsen and Teresa Palmer, and she seemingly revealed that her youngest is a boy.
"I felt so connected with him because I thought this baby is working just as hard as I am," she revealed, using male pronouns.
That was the first time Behati had shared details about her and Adam's newest addition, but she has kept his name under wraps.
Adam Levine & Behati Prinsloo's Love Story In Photos
View Gallery
Elsewhere in the podcast, the mom of three opened up to Sarah and Teresa about how supportive the Maroon 5 frontman was during her most recent birthing experience, as it was her only one without an epidural.
"It was his favorite thing to watch and to be there and to help me through it," Behati said. "And people telling him what to do to help me, too. Like the doula putting him there where she would have been just really making this into such a beautiful experience for everyone."