Khloé Kardashian has moved on past the drama and has forgiven Jordyn Woods.
Tristan Thompson's past infidelities were a major topic of discussion on this week's episode of "The Kardashians."
The NBA star cheated on Khloé multiple times during their on-and-off relationship, most notably with Kylie Jenner's best friend, Jordyn Woods, in 2019.
But despite everything that happened, the Good American co-founder revealed on the hit Hulu reality show this week that she is on good terms with Jordyn.
"I have forgiven Jordyn," Khloé said in a confessional. "Of course, I was upset at the time, and we moved on. I mean there's no bad blood, I've posted on my Instagram Stories. Jordyn and I are good."
Meanwhile, Tristan is trying to make amends and apologize to Khloé's family for his past infidelities.
"As a man, you gotta own your s**t," Tristan told Khloé in the episode.
Khloé agrees and said in a confessional that she thinks it's important for him to have these conversations for "his own growing journey, his spiritual journey, the journey he's on."
Tristan has already started these talks behind closed doors.
During the episode, it was revealed that Tristan talked about his infidelities with Kris Jenner, Kim Kardashian, and Rob Kardashian, but he still hadn't talked to Kylie, Kourtney Kardashian or Kendall Jenner about it.
Khloé Kardashian And Tristan Thompson: A Look Back At Their Relationship
View Gallery
The Kylie Cosmetics founder was directly impacted by Tristan's actions because he kissed her then-best friend, Jordyn, at a house party.
Following the cheating scandal, Kylie ended her friendship with Jordyn.
On Thursday's episode, Tristan apologized to Kylie for putting her in a tough situation.
"Everyone got affected differently you know, but I think you were affected the most by the situation with you know losing a sister basically," Tristan told Kylie. "Like you lost Jordyn who was a big part of your life. I know how much she meant to your life. Your connection, I mean you were like two peas in a pod, so the fact that I put myself and her in a situation that wasn't right and wasn't smart made it tough for you and Khloé because at the end of the day you have your best friend, and you have your sister who you love more than anything else. It's 100% on me but I want to say I'm sorry and I feel bad about it."
The beauty mogul accepted his apology and revealed she is cool with Jordyn now.
"I appreciate that," Kylie told Tristan before admitting in hindsight she needed time apart from her former best friend. "I think I was so co-dependent with Jordyn that I could have never imagined my life without her. We would have probably like still been living together and I think she needed to grow without me, I needed to grow without her. But you know Jordyn and I are cool. We still talk and catch up. We're good."
"Let her know I apologize," Tristan told Kylie. "She went through a lot during that time too and probably went through a lot of flak so I'm the reason why that relationship went in a different direction. I just want to make sure I say it to you and let you know because I was a f***ing idiot."
Ultimately, the 26-year-old decided it was time to move on past the drama and leave Tristan's previous actions in the past.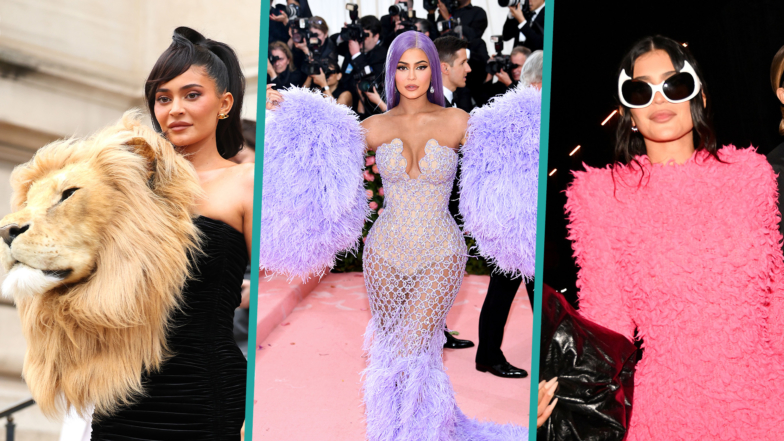 Kylie Jenner's Most Over-The-Top Looks Over The Years
View Gallery
"It's just hard to forgive the things that you did to Khloé," Kylie told Tristan. "But I want to move on from that, you know."
Fans also got to see Tristan's candid conversation with Kourtney on Thursday's episode and the Poosh founder didn't hold back when questioning Tristan for his decisions…
"The next day after you like do the deed, do you feel anything?" she asked Tristan.
The NBA star admitted he felt "disgusted" the next day and explained to Kourt why he continued to cheat on Khloé again.
"I was just literally just cheating for an action. Just cheating for a feeling," he said. "But also, it really came down to not really knowing how to love, because that's the way I grew up."
He then admitted therapy has made him realize why he repeatedly made these decisions.
"I realized that my childhood upbringing, what I saw from my dad and how he treated my mom, as a kid when you see that, the trauma you have is because you can't protect your mom because you're so young, and because your mom tells you it's going to be okay, you basically numb your emotions of being scared or being sad," he said.
After hearing Tristan's side, Kourtney told Tristan how she really felt about his past actions.
"I don't think you deserve Khloé or the way the actions that you've done been something that she's deserved," Kourtney said.
Fans will have to wait until next week's episode to see the resolution of Kourtney and Tristan's conversation.
New episodes of "The Kardashians" drop every Thursday on Hulu.